The global Skift Travel Health Index is 100 points in May 2023. Here we're bringing you selected insights from the Skift team in the Skift Travel Health Index: May 2023 Highlights.
As one of Skift's data partners, we provide flight data (powered by OAG Metis) to enable the reporting of travel performance along with other key data points - together this creates the Skift Travel Health Index, a vital source to track the travel industry's recovery from the COVID-19 pandemic.
This month recovery is at 100%, which means that on average, the travel industry is surpassing pre-pandemic performance.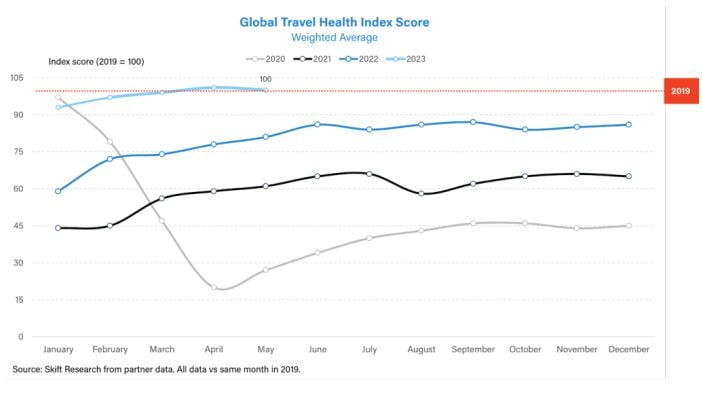 Highlights from this month's Skift Travel Health Index include:
All regions have recovered except Europe, which is at 98% of pre-pandemic levels.
Despite the looming fear of recession, the Memorial Day holiday helped push travel performance in the U.S.
Although not fully recovered, the aviation sector gained 2 pp over the last month.
"The Travel Health Index stands at 100 this month and continues to indicate full recovery on a global average! All regions except Europe which is at 98% recovery have surpassed 2019 levels of travel performance.." - Saniya Zanpure
Download the latest Skift Travel Health Index Highlights here
---
Related OAG Content: