The global Skift Travel Health Index is 104 points in June 2023. Here we're bringing you selected insights from the Skift team in the Skift Travel Health Index: June 2023 Highlights.
As one of Skift's data partners, we provide flight data (powered by OAG Metis) to enable the reporting of travel performance along with other key data points - together this creates the Skift Travel Health Index, a vital source to track the travel industry's recovery from the COVID-19 pandemic.
This month recovery is at 104%, and all regions have now recovered.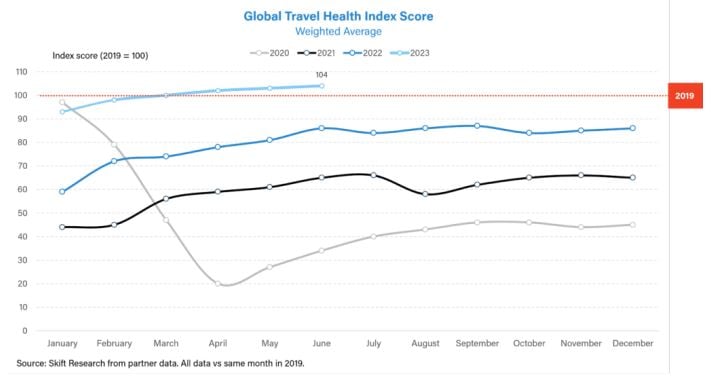 Highlights from this month's Skift Travel Health Index include:
This year has seen a significant shift towards Europe, according to search data from ForwardKeys, with Paris, London, and Barcelona all ranking highly.
Hotels and vacation rentals are leading Europe's travel recovery and are at 7% and 22% above 2019 levels, respectively.
It remains to be seen whether Europe's travel performance in the coming months will be affected by the fact that 24% of European travelers worry about the overall rise in trip costs, while 17% are concerned with the economic situation and personal finances.
"The Skift Travel Health Index shows that all regions have recovered, but Europe's travel revival appears to be rather slow. With 17 out of 22 countries having fully recovered and Europe being a popular summer hotspot, the global travel industry has geared up for a bright summer season." - Saniya Zanpure
Download the latest Skift Travel Health Index Highlights here
---
Related OAG Content: