The global Skift Travel Health Index is 103 points for August 2023. Keep reading for insights from the Skift team in the Skift Travel Health Index: August 2023 Highlights.
OAG provides flight data (powered by OAG Metis) to Skift to enable their reporting of travel performance along with other key data points - together this creates the Skift Travel Health Index, a vital source to track the travel industry's recovery from the COVID-19 pandemic.
The Skift Travel Health Index has grown by 1 percentage point (pp) over July 2023 to stand at 103 this month.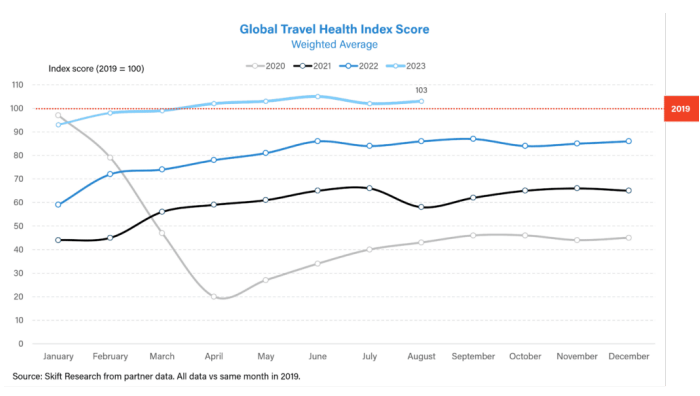 Highlights from this month's Skift Travel Health Index, which focuses on Hong Kong's recovery, include:
Travel performance in Hong Kong, which has struggled to recover ever since the Covid-19 pandemic, has experienced a dramatic uptick in August 2023.
Hong Kong is as close to recovery as it has been, standing at 99.7 points, but it is vital to note that August 2023's performance is indexed to that of August 2019. This was one of the months when protests and unrest in the country were at their peak.
Except for airlines, all sectors in Hong Kong have surpassed 2019 levels of travel performance this month.
Tourism in the country continues to be largely dependent on travelers from Mainland China. The number of Chinese tourists traveling to Hong Kong has reached 84% of the pre-pandemic average from 2017 to 2019.
" Hong Kong is back in business. Travel performance boomed in August 2023, but talk of full recovery is still premature, as 2019 wasn't a particularly good year with widespread protests impacting travel demand in the country" - Saniya Zanpure
Download the latest Skift Travel Health Index Highlights here
---
Related OAG Content: