The global Skift Travel Health Index is 102 points for July 2023. Keep reading for insights from the Skift team in the Skift Travel Health Index: July 2023 Highlights.
As one of Skift's data partners, we provide flight data (powered by OAG Metis) to enable the reporting of travel performance along with other key data points - together this creates the Skift Travel Health Index, a vital source to track the travel industry's recovery from the COVID-19 pandemic.
This month recovery is at 102%, following a similar trend to this time last year.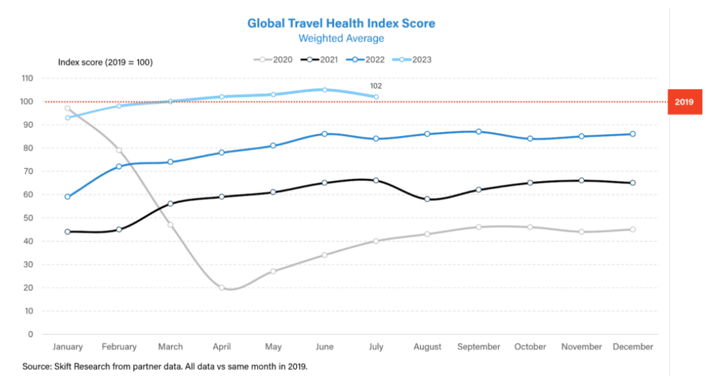 Highlights from this month's Skift Travel Health Index include:
Travel performance declined slightly over the last month across all regions, mirroring the downward trend between June and July 2022.
In the US market, airlines were at 94% recovery at the beginning of the year, and have now surpassed 2019 levels by 13 pp in July 2023. Vacation rentals has slightly cooled off through the year but continues to be 20-30 points above pre-pandemic levels. Car rental has declined from an index score of 116 in January 2023 to 90 this month.
While travel performance softened across all countries over the last month, Hong Kong was the only country to witness month-over-month growth.
" Due to the seasonality of travel demand, the softening score over the last month is comparable to the decline witnessed between June and July 2022. Hong Kong, however, was the only country to see an uptick in performance over the last month, similar to last year. While still at 76% recovery, inbound travel to Hong
Kong is on an upward trend, which is expected to boost performance further." - Saniya Zanpure
Download the latest Skift Travel Health Index Highlights here
---
Related OAG Content: