---
In the first couple of weeks of November, Ryanair will be launching three new services between Israel and Eastern Europe, its first foray into the Israel market.

The carrier will be flying twice a week between Eilat in Southern Israel and each of Budapest in Hungary, Kaunas in Lithuania and Krakow in Poland.
Ryanair's entry to the market brings the number of low-cost carriers flying between Israel and the EU to 12, with EasyJet and Wizz Air the largest. It's the only carrier to fly to the resort of Eilat, a sensible decision given the level of competition on routes to and from Tel Aviv. OAG Schedules Analyser shows that in 2015 there are as many as 48 airlines which have scheduled operations through all or part of 2015 from Tel Aviv to the EU. In contrast, with Ryanair there will be eight scheduled airlines operating from the EU to Ovda (VDA), 60km from Eilat, of which Ryanair will be the largest.
The move by Ryanair is the latest in a line of capacity increases by low-cost carriers operating between the EU and Israel. In March 2013, Israel and the EU signed an Open Skies agreement which will come into full effect in 2018. Pre-empting the complete removal of bilateral restrictions, carriers ha have been adding capacity. In 2014, the year after the agreement was signed, the number of frequencies between Israel and the EU grew by 14% and a further 9% more frequencies have been added in 2015. While legacy carriers make up the bulk of air services - 83% of all seats are on legacy carriers in 2015 - the low cost segment has been growing much faster. Low-cost capacity grew by 78% in 2014 and then by 24% this year.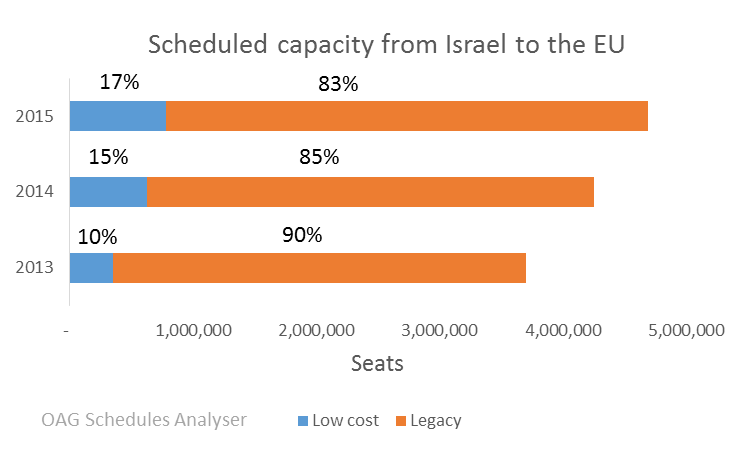 This market is clearly growing and while it may not be the case that low-cost carriers have been the primary cause of market stimulation, a more liberal regulatory regime is definitely resulting in more air services, new routes and a more competitive landscape.