---
One in Four Seats Cancelled
The last week has seen unprecedented levels of action by Governments to control the spread of Coronavirus. Increased security, heightened levels of health checks for arriving passengers and the cancellation of many flights from airlines around the globe to and from China. But how bad is it? Well, we've run the numbers for the last three weeks and the scheduled changes and it's probably the most dramatic change in schedules from one country in such a short period of time ever!
Over 25,000 Flights Cancelled – there will be over 25,000 fewer flights operated to/from and within China this week compared to two weeks ago as the chart below shows. International capacity has fallen by 586,000 with thirty airlines dropping services to China including airlines such as Lion Air, Lufthansa and Turkish Airlines all dropping more than 8,000 seats week on week.
Chart 1 – Scheduled Seats To/from & Within China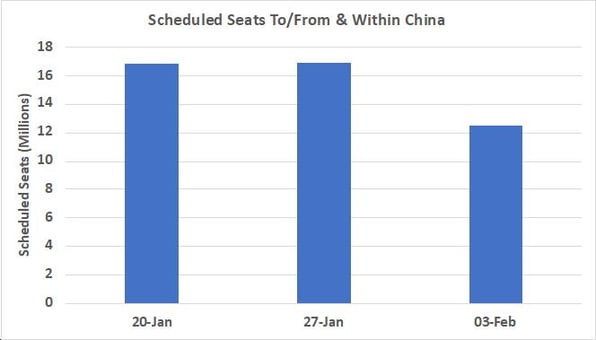 Source: OAG Schedules Analyser
Placing the reduction in capacity into an international context makes for some stark reading. The loss of 4.4 million seats is equivalent to the whole of the Indian market (4.2 million seats) stopping all services such is the scale of change.
Domestic Capacity Axed – Naturally much of the global press coverage has focussed on the impact on international air services. However, perhaps the real story is around a 3.8 million reduction in capacity on Chinese domestic services, some 23,000 fewer domestic services are scheduled than last week. In terms of scale it is worth noting that the Chinese domestic market is some 43 times larger than the largest international market.
In percentage terms, Singapore (-38%) and Thailand (-34%) have seen the largest reductions in capacity with more than one-third of capacity dropped over the last two weeks with Thailand in absolute terms seeing over 100,000 seats lost week on week.
Table 1- Changes to Capacity from China, Top 10 International Markets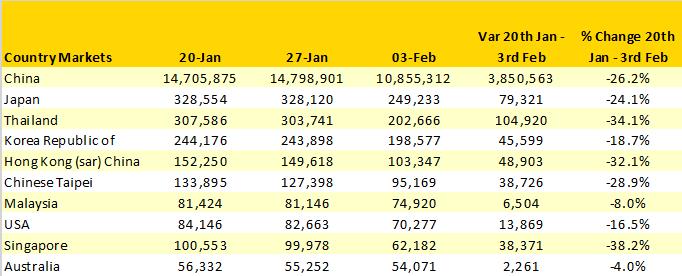 Source: OAG Schedules Analyser
1.6 Million Fewer International Seats Week on Week - A reduction of over 1.6 million international seats begins to highlight how damaging coronavirus will be at least in the short-term to international trade as everything from sporting events, conferences and tour groups are cancelled in the coming weeks.
Not surprisingly, Chinese airlines and regional carriers are those that are most impacted although there are some interesting variances across the airlines. Six of the largest airlines impacted are domiciled in China with China Eastern suffering the most with some 82,000 fewer seats planned this week than two weeks earlier. Interestingly, China Southern are only reporting a 5% reduction in planned capacity which in comparison to their immediate peers seems to be an optimistic position to be taking.
Table 2 - Changes to Capacity from China, Top 10 Airlines, International Capacity

Source: OAG Schedules Analyser
In total some 24 airlines have stopped all scheduled services to China. In total those airlines accounted for nearly 48,000 seats a week; collectively around 2% of all international capacity which perhaps highlights how the story has run ahead of the numbers in some cases of reporting!
More Capacity to be Cut? – this week's reductions in capacity are probably the most significant ever seen in one week in response to any pandemic event; SARS was dramatic but more regional whilst Ebola was across a range of smaller markets. The likelihood is that we will see further changes in the next week in response to both the virus but also demand which has naturally been impacted with consumer confidence badly damaged.
But as just one "takeaway" from this week schedule changes the fact that one virus has essentially resulted in the amount of capacity equivalent to the whole of the Indian market being wiped out is something we hopefully will not see again for a very long time