Despite being no newcomer to the transatlantic market, JetBlue is taking steps to solidify its position as a serious competitor with a small change to the IATA Summer season schedule.

Until now, JetBlue have been operating a daily service between London Heathrow and New York's JFK airport, and since last November a double daily operation from London Gatwick. However, from the end of March 2023 these will switch around, and Heathrow will have a double daily service to JFK, while Gatwick will just have the single daily frequency. Slots at Heathrow are prized - giving access to one of the most lucrative markets in the world - so the airline has done well to acquire a second set of slots, allowing it to operate both an overnight and daytime flight from JFK.
Building Share
In August 2021, JetBlue began operating daily flights between the US and UK with its New York JFK - London Heathrow service. A few months later this was followed with a daily operation to London Gatwick, also from JFK. A year later a daily Boston-Gatwick was added to the schedule, followed soon after by a Boston-Heathrow operation. In November 2022, the JFK-LGW operation went to double-daily. The latest switch doesn't change overall capacity but does point to the growing strength of JetBlue's competitive position.
In June 2023, the airline will be adding France to the transatlantic operation with a Paris-Charles de Gaulle daily route. They have also signalled that a Paris-Boston service will follow in due course. The airline has temporary slots for Amsterdam Schiphol too but no plans, apparently, to operate although it is reported as pursuing permanent slots. It would not be surprising if other European cities such as Dublin, Brussels and Nice were on their radar. The airline signed a code share agreement with Aer Lingus last year.
With the current schedule, JetBlue operates only around 2% of the US-UK market, but that rises to a bit over 5% of capacity in the London-New York market and 14% in the London-Boston market.
Small Planes, Big Ambitions
The JetBlue operation has been made possible with the arrival of its Airbus A321 Long Range aircraft, which make single aisle flying on these transatlantic routes doable. With a range of 4,000 nautical miles, the aircraft can easily manage the 3,000nm that is LHR-JFK. The airline has already taken delivery of 6 of the 8 of these aircraft that it ordered. Also, on the order book are 13 A321neoXLRs, which the airline is expected to use to fly to destinations further into Europe. With the addition of the Paris flights and potentially other routes in Europe, JetBlue's share of transatlantic capacity is set to rise.
With 138 seats, comprised of 114 seats in Economy class (or coach) and 24 Mint suites, the A321LR aircraft are much smaller than those used by rivals, whose aircraft generally have somewhere between 235 and 304 seats. This means that each extra flight adds less in terms of capacity than if it were operated by one of JetBlue's competitors. But competition isn't only about capacity and frequencies; it's also about product and price. So, how does the onboard product compare?
JetBlue claims its seat pitch in Economy has the 'most legroom in coach', with the small print explaining this as based on a baseline seat pitch of transatlantic aircraft. Furthermore, one of the pricing options ("Blue Extra") allows travellers to purchase an Economy seat with an extra 5" of legroom. And JetBlue claims to be the only transatlantic airline offering free unlimited high-speed wi-fi inflight, which is a huge benefit for those who need to work while travelling.
The ambition comes in the Mint product towards the front of the plane. These suites, with their lie-flat seats and aisle access, compare favourably with business-class seats on other airlines.
Price. The Big Question
These days it's sometimes hard to compare airline products, especially when the prices are unbundled, and some include elements that others exclude.
For some initial comparisons for Economy and Premium travel between JetBlue and British Airways - the dominant airline on the London-New York market - we used Google Flights.
For our sample Economy flights, we examined the cost of flying from London to New York for the UK Bank Holiday weekend at the end of May (out on a Thursday morning and back overnight on Monday evening). At first glance the prices looked to give British Airways the edge; for travel (with checked bags) it would cost £666 on JetBlue, and £576 on British Airways. However, on closer inspection, British Airways fares vary widely by time of day. The evening departure is less expensive than the morning departure that has the same timing as the JetBlue flight; the 08:24 morning departure on British Airways is priced at £1,154.
With plenty of flight options during the day, British Airways is clearly in a position to revenue manage between flights at different times of the day, so there are options for travellers prioritising a cheap flight. Of course, JetBlue's single-aisle aircraft also takes around half an hour longer in each direction.


Figure 1 Prices for JetBlue flights London to New York (return) on the Bank Holiday weekend (morning departure), £666 "Blue"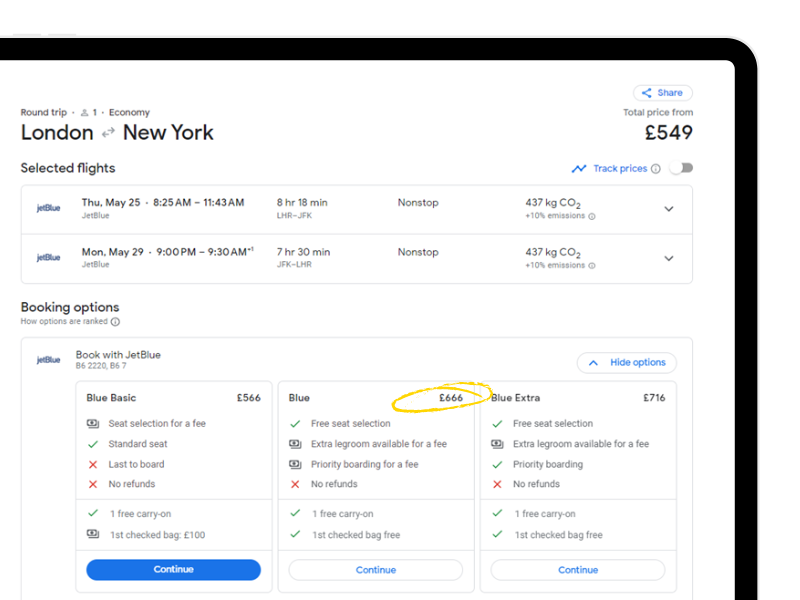 Figure 2 Prices for British Airways flights London to New York (return) on the Bank Holiday weekend (evening departure), £576 Standard Economy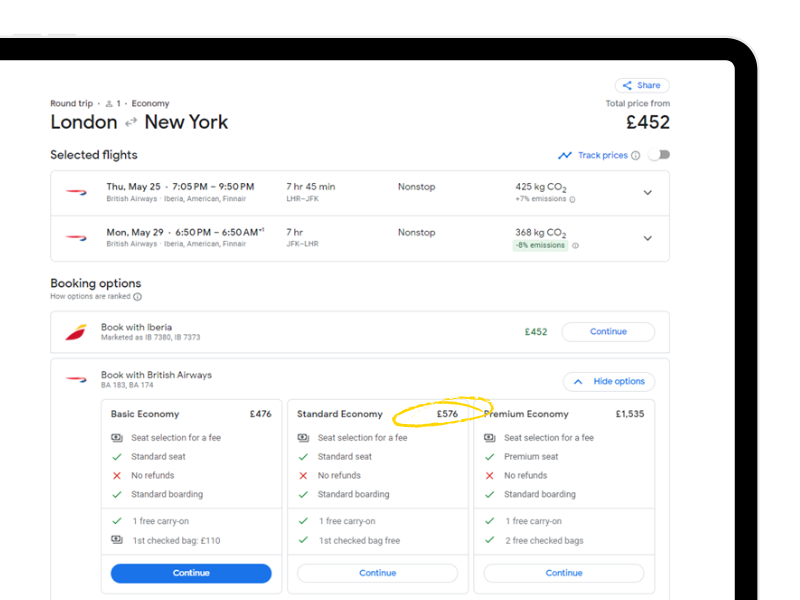 Figure 3 Prices for British Airways flights London to New York (return) on the Bank Holiday weekend (morning departure), starting at £1,154 Standard Economy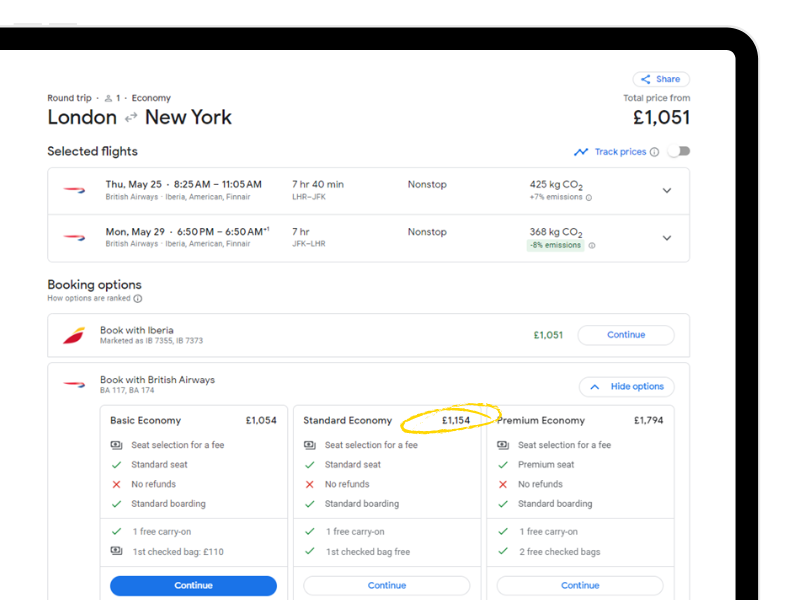 Although the JetBlue aircraft have just 24 Mint seats, this is where the competition hots up. A comparison of Business Class return flights on Google for London to Boston travelling out on Monday 25th May and back the following Friday, has JetBlue as the only non-stop flight listed among the Top 5. The fare is £4,117. The 4 flights above it may be less expensive but all involve one, if not 2, stops. Scrolling down, American Airlines and British Airways are the next non-stop flights listed but the fares come in at £7,485 which is more than 80% higher. This may just be a snapshot, one flight itinerary at one point in time, but shows JetBlue has the potential to eat into the yields achieved by the incumbent carriers.
For the moment, JetBlue's share of the market is small. Yes, they may be challenging other carriers on price but until they have a larger share of the market they are not truly disruptive. However, there is no reason not to expect their share to grow in the future. Other airlines may also focus network expansion on the transatlantic using single-aisle aircraft. Watch this space.
---
Recommended: