Every month we track the travel recovery in China. As the recovery is now underway, we look specifically at the return of European travel to, and from, China. 2019 saw the culmination of a period of growth in services between China and Europe – using key flight data, we explore how these routes look now.
China – Europe 2014
As the below route map from 2014 illustrates, services had operated between China's main cities and predominantly European capital cities for many years.; with services between 15 Chinese cities and 19 European cities. All of the European routes were to capital cities except for:
Germany where Dusseldorf, Frankfurt and Munich were served, as well as Berlin,
Switzerland where Zurich and Geneva had services, rather than Bern,
UK which had three routes, two to London operating to Heathrow and Gatwick and one to Birmingham.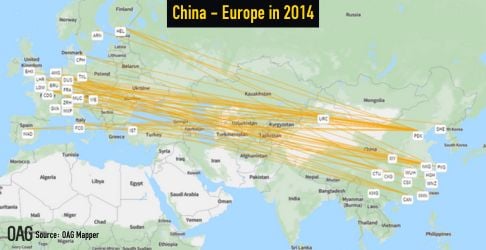 China -Europe 2019
Fast-forward five years and by 2019 the China-European market had seen considerable expansion in the number of destinations served. There were now services between 22 Chinese cities and 28 European cities.
New additions within Europe included Oslo, Dublin, Edinburgh, Nice, Milan, Lisbon and Barcelona. And in China, new services launched from Zhengzhou, Jinan, Qingdao, Fuzhou and Sanya.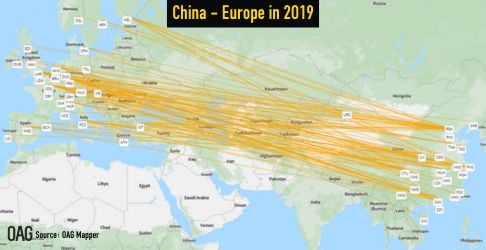 A year ago, flights between China and Europe were still considerably impacted by the ongoing restrictions on outbound travel from China, with services operating at a minimal level.
Summer 2023
This summer recovery is underway, certainly in terms of destinations served, with 24 of the 28 European cities that had services returning. This is great news for these destinations and a strong sign that this market is well on its way to recovering, with just Copenhagen, Nice, Orly and Oslo missing from the list of airports previously served.
On the China side, only 14 cities have seen services return, so there are still many missing from the height of services operated in 2019 and this is likely to be acting as a constraint on demand.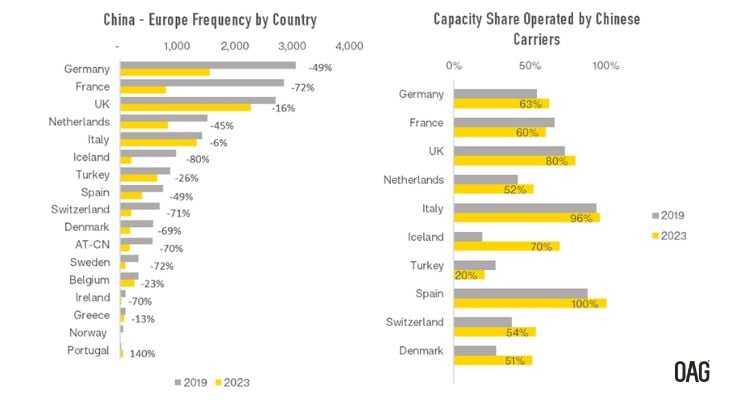 Pre-pandemic Chinese carriers operated the majority of services between China and Europe, with a 60% capacity share overall, this has increased to 71% in 2023. In some countries the imbalance is even higher, such as Spain who now has 100% of capacity operated by Chinese carriers, compared to 88% in 2019 and Italy which has 96% operated by Chinese carriers, compared to 94% in 2019.
The main driver for this imbalance in the market is the volume of outbound travel from China, as Chinese travellers typically tend to favour their own national carriers.
A further constraint is currently the closure of Russian airspace to European carriers whilst Chinese carriers, who are not banned, can reach Europe in a more direct way. The typical flight time for an Air China service from Beijing to Frankfurt is 9 hours and 20 minutes, whilst for Lufthansa operating the same route, journey time is currently 11 hours and 5 minutes.
Of course, European carriers will simply continue to drive their recovery post-pandemic through other markets, not being reliant on the China-Europe market. We will continue to monitor the strength of the China-Europe market this summer, which as suggested, is expected to be favourable and a welcome development for the industry.
---
RELATED CONTENT: