The first in a series of blogs focusing on the Middle East aviation market. Using the latest flight data our expert analyst, Becca Rowland, explores how changes in diplomatic relations between Israel and its neighbours are generating new air services between the countries.
After years of tension between Israel and its neighbours, the 'Abraham Accords' - agreements that normalised ties between Israel, the United Arab Emirates (UAE) and Bahrain, signed in Washington in August 2020 - appear to be paying dividends in terms of air travel services.
Prior to this, only Egypt and Jordan had direct air services to and from Israel out of the 15 countries located in North Africa and the Middle East. By the end of 2020 – and despite the Covid-19 pandemic – three airlines had started new air services between Dubai and Israel. These were El Al, Flydubai and Israir which were operating with a combined capacity of around 900 seats per day each way in December 2020.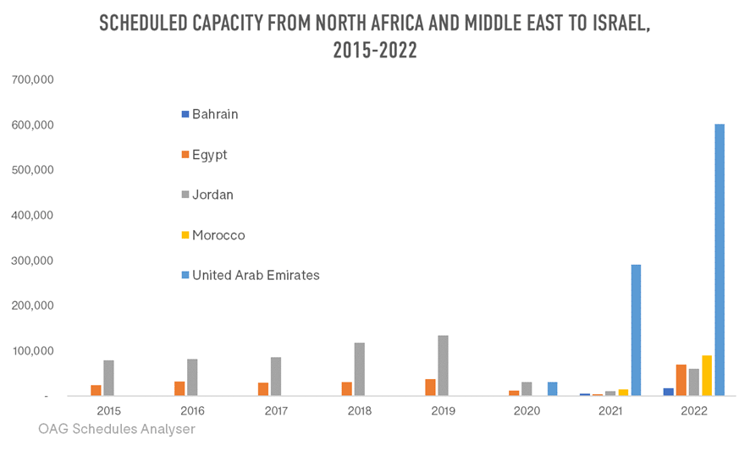 Since then, the Dubai-Israel market has gone from strength to strength. The three original carriers were joined in 2021 by Arkia-Israeli Airlines, Emirates, Etihad and Wizz Air Abu Dhabi, together operating more than 320,000 seats in each direction, and enabling hundreds of thousands of travellers back and forth.
Bahrain, one of the original signatories to the agreement that normalised relations in 2020, also saw scheduled services to Israel start in 2021, with capacity building through the last few months of the year and ending with nine flights each way for the month of December operated by Gulf Air.
Air services between Morocco and Israel were also benefitting. Arkia-Israeli Airlines, El Al, Israir and Royal Air Maroc all operated a handful of flights in the second half of 2021.
By December 2021 there were 18 air services operated by 13 airlines across 7 routes between North African and Middle East countries to Israel.
Moving into 2022, OAG's Airline Schedules Data shows these airlines and routes continuing, albeit with some chopping and changing of capacity. No doubt this is in part to right size capacity to what is a new market which is probably only just beginning to stabilise as countries emerge from pandemic-related travel restrictions.
In March and April 2022 another airline, SmartWings, also enters the market with a small operation between Dubai and Tel Aviv, while El Al has added Sharm El Sheikh as a destination.
Figure 1 Route Network between Israel and North Africa/Middle East, March 2022

Between March and June scheduled airline capacity between Israel and these countries remains at around 70-85,000 seats each way, with a small peak in April. This remains significantly above historic levels and hopefully a sign that these are aviation markets that will continue to grow and mature.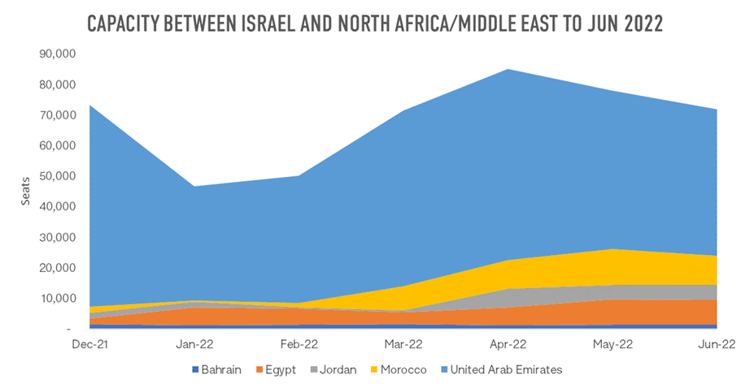 ---
Recommended: