With the digital economy growing at a rapid rate, the aviation industry is investing in automated technologies that streamline processes, drive efficiency and meet consumers' demands.
The force behind autonomous technology is artificial intelligence and powerful data analytics. The goal is for these machines to make independent decisions based on the data they collect to operate any process or function without human intervention. Autonomous technology is not only creating powerful insights and predictive analytics but working to improve how systems operate across a variety of sectors in the travel sphere.
Autonomous Technology Use Cases
Airports around the world are experimenting with self-service gates, robots and self-driving vehicles, air taxis, virtual airports and even autonomous flight systems.
Tech startup ThorDrive, is currently working with Wollard International and Cincinnati/Northern Kentucky International (CVG) to bring autonomous and self-driving tech support to airside baggage operations such as baggage tractors. Rome's Fiumicino Airport (ADR) is currently partnering with SITA to test out automated border control e-gates. In other words, when a passenger needs to go through customs, instead of handing their passport to border control, they'll simply scan their fingerprint or use facial recognition technology to go through the checkpoint. Japan's Kansai Airport is expanding their security operations with autonomous robots. Launched earlier this year, the robots assist with check-ins, temperature testing, and use sensors and cameras to identify potential risks.
According to SITA, more than 3,000 passengers a day are using self-service to pass through immigration checkpoints. Aside from making the process more efficient, it also ensures a higher-level of border control security than manual operations.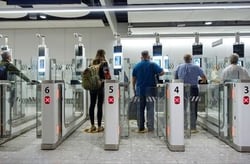 For ADR, e-gates are only the beginning. More innovations are on the horizon with the introduction of autonomous air taxis. ADR partnered with VoloCity to create a new vehicle that promises to get passengers from Fiumicino to Rome in less than 20 minutes with zero carbon emissions. While air taxis aren't available on the market yet, the use of urban air mobility is not too far away. According to Volocopter, air taxis will be available to passengers in the next two years – with ADR expecting to be one of the first airports to offer this new mode of travel.
Other airports, like Birmingham and Dallas Fort-Worth International (DFW), are implementing other forms of autonomous transportation to optimize passenger traffic. Birmingham Airport recently partnered with Aurrigo, to unveil a connected autonomous vehicle (CAV) or self-driving Auto-Shuttle that can drive up to 10 passengers through local roads to the airport. Meanwhile, DFW is partnering with STEER to develop a comprehensive and autonomous ecosystem for airport parking management.
Digital Twins in Airports: Optimizing an Entire Complex
Disruption has become a constant for the travel industry. To navigate the unpredictability of today's world, airports are experimenting with Auto-Sim technology to generate a 'digital twin' of their airport to model "what if" scenarios. "Digital twins" are essentially a 3D digital representation of physical systems and facilities, which not only allow visual modeling but can account for future design and add to ongoing monitoring and systems testing.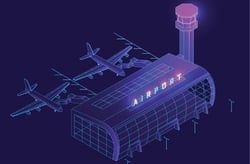 Michigan's Gerald R. Ford Airport partnered with Auto-Sim tech pioneers, Aurrigo, to create a digital replica of the airport's layout. Powered by real-time travel data, the first digital airport model in the U.S. is subjected to potential scenarios like severe weather and flight delays. By testing future disruptions on the virtual replica, the airport can understand an event's impact before it happens. If a snowstorm is on its way, the airport can model how that weather will interfere with flight arrivals and departures, then make a strategic, well-informed decision on how to respond. The software also allows teams to experiment with new technological solutions before making a committed investment.
Other airports are testing out the digital twin model including Hong Kong International Airport (HKIA). Their digital twin is fueled by high-quality, real-time travel data to make predictions, as well as model new construction projects to ensure smarter planning operations. While digital twin technology is not yet widely adopted by airports, we can expect its popularity to rise as the aviation industry realizes the invaluable benefits.
Beyond "digital twin" technology, more travel players are working together to advance digitalization. For example, Vienna International Airport and Austrian Airlines recently teamed up with Plug and Play, an innovation platform, to adopt and scale new technologies to simplify the check-in process, enhance customer experience and improve the safety and efficiency of their operations through digital transformation.
Autonomous technology holds the promise of making air travel safer, more efficient, and in line with customers evolving needs. These autonomous systems all have unique capabilities that vary in function and scope, but there is one underlying constant; high-quality, real-time data is fueling the future of travel. It's the most vital part of the digital equation. Airports looking to reimagine the customer experience through technological advancements need access to key aviation data sets to integrate into these autonomous systems. The future of travel is autonomous, but there is no autonomy without powerful travel analytics.