Three pieces of good news broke in Asia last week that, although not providing an immediate impact on global airline capacity, will in the coming weeks help several airlines and airports in the region rebuild capacity.
Of course, pressure will be building for China to relax its travel restrictions as Japan removes visa requirements, Hong Kong ended mandatory Covid-19 hotel quarantine for international arrivals, and Chinese Taipei relaxes regulations. This has to be a good news week in Asia.
As September comes to an end and the shops begin to fill with Xmas cards and other such seasonal delights we've added December to the rolling three-month forward-capacity chart! We can now see how the year-end is shaping up, allowing for the inevitable shaving of capacity by carriers up to a few weeks before departure, it looks like we will have more than 4.5 billion seats in 2022 - a 24% increase on last year and around 72% of the 2019 capacity. That may seem slightly disappointing, but the last six months of the year are tracking at 87% of the 2019 capacity, so edging ever closer to historic levels. And that's before the three Asian markets (mentioned before) have added back airline capacity.
Looking at the more immediate flight data this week, airline capacity has nudged back above 98 million with a further 680,000 seats added (with North East Asia and the regular weekly optimism of lockdowns being eased in China accounting for that increase). Western Europe has managed to hang onto its position as the largest market in the world - but, in all likelihood, will relinquish that position to North America next week and probably for the rest of this year and first half of next. Two of the weakest performing markets compared to 2019 airline capacity are South East Asia (-30%) and North East Asia (-22%), who will undoubtedly benefit from the announced changes in entry requirements.
As we suggested last week Greece has now slipped out of the top twenty country markets as the summer sun falls for another year and is replaced by Thailand which incredibly is now 13% up on capacity versus the same week in 2019.
France has dropped one place in the table as Indonesia moves into 12th position and with some likely benefit from the reopening of major markets in Asia could move further ahead of Turkiye in the next few weeks. Similarly, it would not be a surprise to see Japan rise to the fifth spot if some more international capacity is added by the end of October.
With the announced reopening of three Asian markets last week, we have looked at the remaining issue in their recoveries - access to China and one of their major international markets. In the chart below we show the scheduled capacity from each country to China for each market and the scale of capacity gap that continues to exist. As can be seen, the good news is good news, however, there is still a long journey in terms of capacity to be recovered. Japan currently has just 2.5% of its international capacity operating to China compared to a normalised level of 20.0% and Chinese Taipei stands at around 8.5% of its capacity to China being operated compared to a normal 19% mark. All of which begs the question: when will the final good piece of news come from China that will change the pace of recovery for every market in the region, sooner or later?
Scheduled Capacity To China From Reopening Asian Markets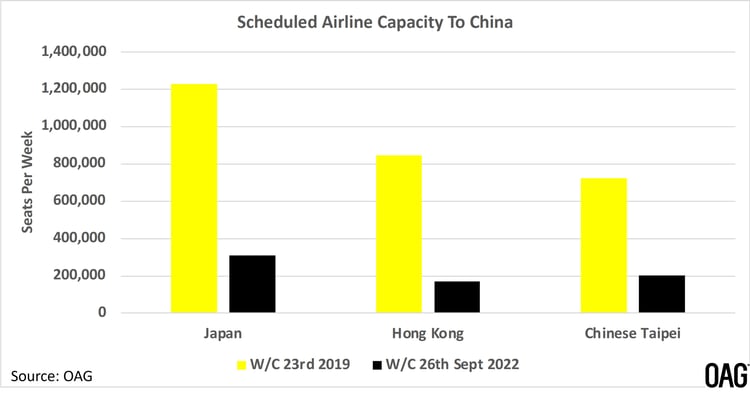 Amongst the top twenty airlines, there is nothing significant to note aside from United Airlines increasing their capacity week-on-week by 6.6% taking them to 85.6% of their 2019 production, although they continue to lag behind the other major legacy carriers in North America. Wizzair slip a position at the expense of Alaska Airlines but all other positions remain unchanged.
Regional Cancellation Rates – Previous 5 Weeks Performance
On-time performance data allows us to look at how things are now performing around the globe and indeed it is possible through our data cloud to track any specific flight number over a lengthy period of time. Real geeky data for those of that mindset!
This week we looked at some key regional performances over the last five weeks. Although in many parts of the world the level of flight cancellations are returning to what would be considered normal levels there remain some regions and specific countries where travelling continues to have a high chance of a cancellation. The national press in China last week reported a 60% cancellation rate on one day which explains the one in six chance of a "CX" in North East Asia. In the Caribbean cancellation rates have been edging back up and that is before the full impact of Hurricane Ian is felt in the next few days.
Over the next few days, September will become October and the third quarter of the year will close for many airlines around the globe, typically one of the strongest quarters for financial performance it will be interesting to see the earning reports coming out over the next few weeks. Demand appears to remain strong although reports of load factors slipping back below 2019 industry levels suggest that we are all having to return to work and that the bucket list/revenge spend holiday season is over. Let's hope that for the airlines that revenge spend is reflected in those earning reports.
Stay safe everyone.