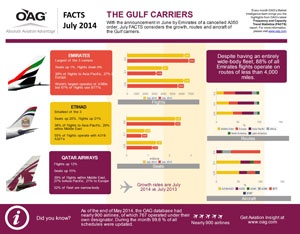 When we heard that Emirates were cancelling an order of 70 A350s last month we decided to look at our flight schedules data to see what we thought could have triggered this last-minute cancellation. Interestingly, our analysis showed that this decision could be based on some 88% of Emirates' flights.
The majority of Emirates' flights are to destinations within 4,000 miles of Dubai. So, rather than acquiring new aircraft (such as the A350) to boost their ability to travel up to 8,500 miles - currently only 12% of their flights do travel this far – have Emirates made the decision to stick with a well-proven aircraft that they know well?
Emirates is the world's largest operator of the A380 and currently has 48 in service, with another 92 on order – operating mostly to Europe and Asia Pacific. They are currently pressing Airbus to re-engine the A380, which has 171 more seats than the Boeing 777 in the standard Emirates configuration. So Emirates appears to be well-placed with the current aircraft in its fleet and those on order, to move into new growth markets as they emerge.
But it's not all bad news for Airbus. This is potentially a good opportunity for other carriers who can take advantage of the production spaces to get earlier delivery of their own A350 orders.
Ultimately, as this order of A350s wasn't due until 2019 anyway, the short-term effect of the cancellation will be minimal, while allowing the carrier to re-strategize with its current fleet (and the other aircraft it has on order) to meet market growth.
Read OAG's full analysis of Emirates' fleet and market strategy in OAG's FACTS (Frequency and Capacity Trend Statistics) report for July 2014 here.