There can't be much that rattles British Airways these days, other than the irritation of competitors nipping at its heels on the transatlantic market. Whilst 15% of BA's worldwide capacity operates over the Atlantic, it contributes a much bigger share to profits.
Secure in its 39% share of London - US traffic, it's interesting to watch the dance that takes place between the established market player and the newcomer as the latter seeks to establish some sort of presence and the established market player defends its turf.
When Norwegian started a winter service between Gatwick and Las Vegas in 2016, it undoubtedly saw Virgin, Atlantic, the only other operator on the route, as its competitor.
However, Norwegian's move was enough to entice BA, which already operated Heathrow-Las Vegas, to add a direct year-round service from Gatwick in April 2018. For now, all three carriers seem to be making it work in terms of capacity and frequency but a look at yield might tell a different story.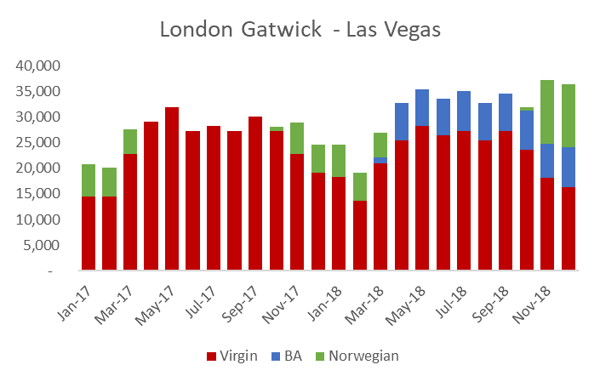 Source: OAG Schedules Analyser
Norwegian tried Gatwick – Seattle daily, but couldn't make it work against BA's 3 x daily Heathrow – Seattle and pulled out after a year in October 2018. Norwegian tried Austin too, but only for a summer, up against BA's Heathrow service.
When Norwegian started a direct service to Oakland, the secondary airport in the San Francisco urban area, BA followed quickly, starting a Gatwick-Oakland service in Summer 2017. For BA, already serving San Francisco from London Heathrow, the opportunity to fly to the second airport in a city to another second airport seemed to represent a reasonably risk-free option, able to fall back on the primary airport service if the new route didn't take off. This time the play didn't work out for BA and it pulled the route in October 2018, leaving Norwegian to it.
There's a dance taking place on the East Coast too, where Norwegian and BA have been facing off over Fort Lauderdale, Miami's secondary airport. Despite serving Miami International (MIA) from London Heathrow, BA launched a London Gatwick – Fort Lauderdale service in Summer 2017 in direct competition with Norwegian which operates a significantly bigger share of capacity with its daily London Gatwick service.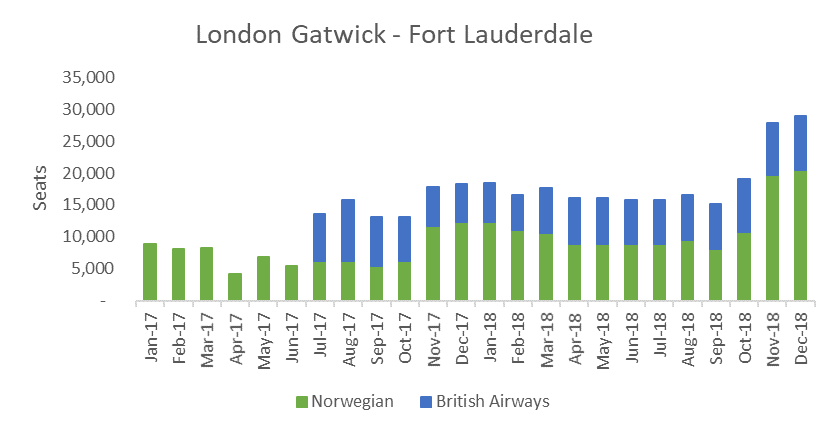 Source: OAG Schedules Analyser
It's all change, though, as Norwegian is set to move its Gatwick – Fort Lauderdale service to Miami International (MIA) this summer, going head-to-head with American, BA and Virgin who all operate to Heathrow. Norwegian will operate a 17% share of London – Miami capacity. Whether BA decides to retain its Gatwick- Fort Lauderdale route in the long term or focus its efforts on retaining the greatest market share on London, Miami remains to be seen.
Although it doesn't appear that BA is offering its new Basic Economy product on these routes, where the passenger pays for checked luggage and seat selection, it has been working hard to ensure the product in the back of the plane can compete with Norwegian. Prices may not be quite so low, but passengers do get a meal and the confidence of the brand. What is clear is that each move Norwegian makes – whether that is to enter markets with limited competition or choose markets where it competes head on with the big boys - demands a competitive response. For BA, the transatlantic is a market the airline cannot afford to be complacent about: it is simply too important.