A recent article by G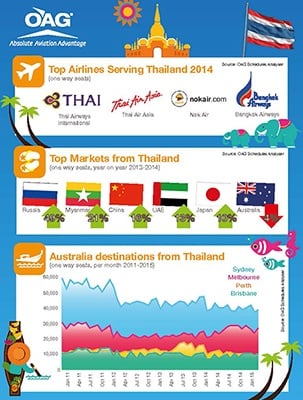 lobal Travel Media caught our attention in the OAG JAPAC offices, reporting that 2015 has been designated "Thainess" Tourism Year by Tourism Authority of Thailand (TAT) and THAI International, with a focus on the Thai way of life, Thai culture and Thai experiences.
The campaign will target international tourists from 37 major markets in Asia and Oceania, Europe, America, the Middle East, and Africa, as well as niche markets – such as weddings and honeymoons, golf, eco-tourism, and health and wellness.
There is a focus on Australia - a previously buoyant tourism market that has dropped in capacity in recent years - with an aim to attract a million Australians to Thailand in 2015; around 900,000 Australians are expected to visit in 2014 so this would be an 11% increase.
Australia- Thailand seat capacity has been decreasing at an average of 3% over the last five years. In 2009, Australia was the number seven international market from Thailand by annual seat capacity; now in 2014 it's dropped out of the top ten and is eleventh. So it's understandable that, as the GTM article mentions, this is clearly an area of focus for TAT and THAI International : to reinvigorate the market along with other campaigns for other international tourist markets.
It is clear from the data we pulled from OAG Schedules Analyser (see infographic) that tourism to Thailand is still growing, with seat capacity to Thailand growing at an average of 11% across all markets over the last five years; and it looks like 2014 will deliver similar numbers, with tourism proving to be resilient despite the short term impact of local unrest. 2014 has also seen strong growth from China (+16%), UAE (+13%), Myanmar (+21%) and Russia (+49%).
From our Traffic Analyser adjusted booking data, we can also see that the number of passenger bookings has been fairly flat (Jan-Aug this year 1% down vs the same period for 2013) however on a moving annual total basis, the numbers have been growing since January this year.
Clearly there is some work to do on the Australian market, however the numbers are showing signs of improving – for Thailand as a whole, the numbers are very strong – a positive start for "Thainess" Tourism Year.
Click here to enlarge our Thaliand tourism infographic