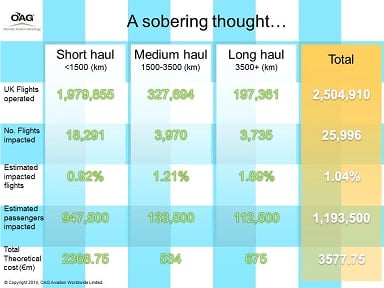 This commentary was first revealed as part of a talk from OAG's EVP John Grant at CAPA's World Aviation Summit 2014
Using OAG's flight status data which provides coverage of nearly 95% of scheduled airline operations we have identified the potential implications of the UK Supreme Court EH/261 decision on delay compensation. In the last twelve months, the level of flights qualifying for delays was just over 1%, with slightly higher levels on long-haul services.
Our analysis provides a projection of the levels of compensation that could be owed to the consumer and identifies those carriers that have incurred the highest proportion of delays. Potential liabilities run into millions of Euros for the airlines, with - perhaps not surprisingly - the greatest exposure in the short haul sectors.
To watch a video of John Grant's speech at the CAPA World Aviation Summit click here (The video is of the full breakfast briefing on The Strategy Behind Airline Network Planning; John Grant starts speaking 50 minutes in)