2018 is the year that Russia gets to showcase its footballing prowess and soccer stadiums to the world. Football will inevitably bring an additional boost to the nation's aviation which has been booming, even without the benefit of a major sporting tournament on its soil. In 2017 domestic scheduled airline capacity grew by 14% while international capacity grew even faster, at 18%.
The World Cup is estimated to bring an additional 3.5 million visitors to Russia, many of whom will travel by air. While there are plenty of airports close to the 11 cities which will host matches, Russian aviation very much revolves around Moscow with every one of the Top 30 domestic routes operating to or from one of the three Moscow airports – Sheremetyevo, Domodedovo and Vnukovo. It's likely that many football visitors will enter the country via a Moscow airport, and the primary Russian gateway airport, Moscow's Sheremetyevo Airport, will have a shiny new terminal to impress with.
Russia's Top 10 Airports and Cities hosting FIFA World Cup 2018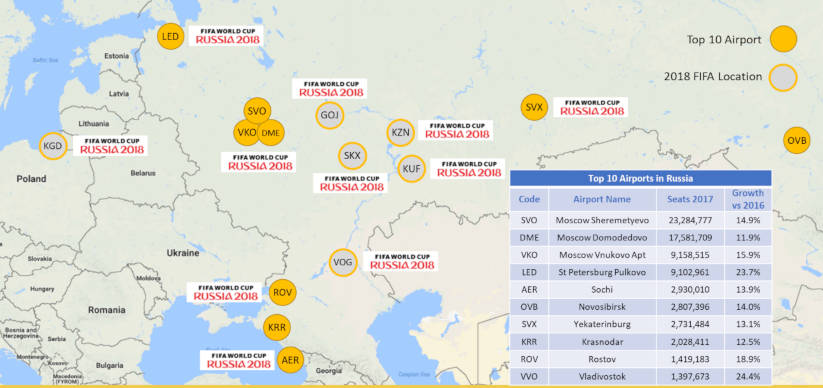 While the World Cup will boost visitors, especially for the months around the competition, the numbers represent only a fraction of the seats added by airlines operating in Russia in 2017. In total, capacity grew by over 18 million seats in 2017, of which 8 million were in domestic markets and 10 million were in international markets. Russian airlines, especially Aeroflot, were primarily responsible for the growth as they consolidate their market positions following the exit of Transaero from the market at the end of 2015. Aeroflot already boasts the youngest fleet of any of the world's largest 20 airlines and with 72 new aircraft on order, it will be interesting to see how many of the football fans choose to fly on this resurgent airline.