It's a wonderful idea, to create an aviation objective of "letting the common citizen of the country fly" and could be applied to many markets around the world. India's UDAN (Ude Desh Ka Aam Naagrik) programme launched in 2016 has now been in operation for three years. With a general election currently underway, we thought it would be an ideal time to review the success of what was a central element of the previous Government's election promises.
UDAN had a number of objectives ranging from airport development and enhanced regional connectivity within India through to economic development and of course improving access to air travel for everyone. In such a large country and in a relatively short period of time, how successful has the programme been and what are the key results?
Before we answer that question, it is worth noting that in the last four years, India's aviation market has been one of the fastest changing in the world; both in terms of growth but also perhaps more recently in the supply dynamics. Some airlines have flourished whilst others failed and of course, Air India remains a complex challenge with no solution.
Purely from a growth perspective, the table below suggests that the UDAN initiative has delivered spectacular levels of growth across the Indian domestic market. In summary, there are now 340,000 additional scheduled flights compared to 2015; the equivalent of an extra 930 services a day. Those additional services are providing around 15,100 extra seats a day which would certainly support the desire to increase air access for all. Perhaps the most important element is that compared to five years ago, 860 airport pairs are now being operated which would appear to play well to the ambition of increasing connectivity.
Table 1 – UDAN Key Measurement Criteria

Source: OAG Schedules Analyser
Given the prime objective of UDAN has been to improve that regional connectivity, we've taken a deeper look at the data to see what has happened and if the programme has been as successful as intended. Whilst connectivity to one of the "Super Six" airports of Delhi, Mumbai, Kolkata, Bengaluru, Hyderabad and Chennai is important, the development of scheduled services between secondary airports and cities is perhaps a better measure of the policy's success. The chart below would suggest that something positive has happened. A growth from 191 airport pairs served in 2015 to 445 in 2019 is by any market measurement exceptional and unlikley to be replicated in any other country in the last five years.
Chart 1 – Airport Pair Growth Excluding India's "Super Six" Airports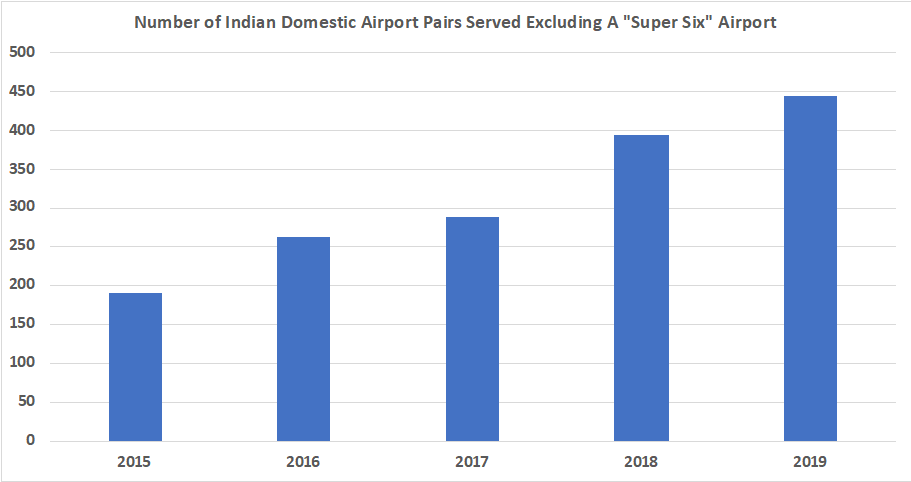 Source: OAG Schedules Analyser
Consistent with the growth in both frequency and the number of airport pairs operated there, this chart shows there has been significant growth in airline capacity which in turn hasmade air travel affordable for the common citizen, showing UDAN appears to have worked. In 2015, low-cost airlines accounted for a very high 62% of all domestic capacity; by 2019 that proportion has reached 79% as carriers such as Indigo and Spicejet doubled their domestic services in less than five years.
Chart 2- Scheduled Flight Growth Top Indian Domestic Airlines

Source: OAG Schedules Analyser
Based purely on the metrics, it would seem that India's UDAN policy has been a success against all of the key criteria; improved connectivity and access for all, which in a market where change has historically been slow to happen is quite a remarkable achievement in such a short space of time. Only time will tell if these unprecedented levels of growth are sustainable and indeed even profitable for the airlines concerned but it does at least demonstrate that in India, where there is a will, there is a way!