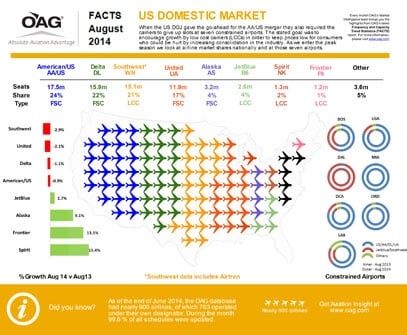 It's the summer and peak season for the US holiday market. Well most holiday markets, but we've chosen to focus on the US domestic market for our latest FACTS report because of the US Department of Justice's plans to allow consumers and sun-seekers to benefit from competitive prices and enhanced travel options in the US.
In November 2013 US Airways and American Airlines merged; part of the merger agreement involved giving up several hundred slots at seven airports across the US. These freed up slots were handed over to low cost carriers (LCCs) such as JetBlue and Southwest Airlines – offering more opportunities for LCCs and therefore for customers to access low cost flights. So how is that working out for this summer's holiday-goers?
Our data shows that US domestic capacity is actually down this August compared to last August. The loss here is 1% or roughly 25,000 seats per day. So even though there has been increased capacity among LCCs, the sheer dominance of the biggest US domestic carriers means that these LCC increases have little impact on the market overall, whereas the drop in capacity from the major players has more of an (uninhibited) impact (AA/US in fact will only operate 0.9% fewer seats than last August).
Similarly, even though the largest carriers have reduced the number of seats on offer they still dominate the market in terms of capacity: AA/US have a 24% share of the market, Delta 22%, Southwest has 21% and United 16.5%
John Grant, OAG's EVP, says that these figures reflect on the regulator's ability to be the consumer's champion or to affect change in a market like aviation. 'However hard regulators work to encourage increased competition, the strength of established carriers, operating margins of all airlines and complexity of the industry means that the benefit to consumers can take a very long time to be seen,' he says, 'if it is ever realised.'
So if we're looking at reduced capacity in the peak travel months are we also looking at disgruntled consumers either unable to get a flight or paying more than they would have done for the same trip this time last year? And will this lead to a change in consumer behaviour if the DOJ's efforts to halt consolidation continue to fail?
For more information on the products we used to create this report click on one of the following: Schedules Analyser (capacity) or DOT Analyser (load factors).