Lithuania continues to take advantage of its strong technical talent by attracting major global players who require high quality IT professionals. Ryanair, Uber, Barclays and Nasdaq have all chosen to set up offices in Lithuania in recent years. Undoubtedly, as with so many business and office location decisions, the quality of air services is an important factor.
With direct services to most of Europe's major cities, seat capacity to and from Lithuania has been growing at an average annual rate of 9.2% for the last 5 years, almost double the EU average rate of 4.7%.
As OAG announced this week, it will create a new development centre based in Kaunas, this certainly played an important role in the decision, with Kaunas and Luton, where OAG's Global HQ is based, connected by daily Ryanair and Wizz Air flights. As the city of Kaunas has been developing a cluster of activity around research, innovation and technology, the airport is also gearing up to meet the travel needs of the start-ups, enterprises and investors which are emerging, as well as the leisure needs of the resident population. In the last year alone, airline capacity has increased by 23% and the network which already covered nine countries, has been extended into Bulgaria and Greece. Not bad for a city of 300,000.
Kaunas Route Network, March 2018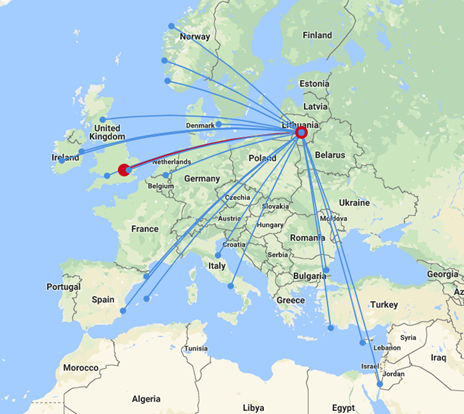 With Kaunas situated just over 100km from Lithuania's capital, Vilnius, there are plenty more options for connectivity from there. Vilnius Airport has been growing capacity at an average rate of 13% for five years and now boasts a network with 62 destinations spanning 27 countries. There are the obvious flights to local capital cities and hub airports such as Warsaw, Frankfurt, London and Stockholm. For the local start-ups which are expanding into international markets there are one stop connections .
One of the local rising stars of the Kaunas technology eco-system is Elinta, a disruptive electronics and automated systems company which has developed electric cars for Lithuania. Its founder Vladas Lašas, recognises the potential of the country to be a European base for a company like Palo Alto-based Tesla. With one stop air service to San Francisco via Copenhagen or Amsterdam from Vilnius, maybe that might just happen.