Four teams from the same country contesting the finals of Europe's top competition is historic for all sorts of reasons but for the supporters trying to get to the venues is a challenge almost beyond winning the cup. Our analysis of the options and issues highlight just how large the scale of operation is for all those involved.
Whilst the Champions League finalists will receive around 17,000 tickets each, the Europa League finalists are likely to receive 6,000 tickets each. That's some 46,000 seats in total, add a further 10% for those travelling in hope of a ticket and we can safely assume that close to 50,000 supporters will be travelling. That volume of demand equates to around 264 flights on a typical B737 type aircraft and with many services already booked the logistics of sourcing and operating that number of flights will be stretching the minds of airport operators trying to squeeze extra capacity into already busy airports. In this short analysis we've tried to provide some insights that might help!
Europa League Final, 29th May, Baku
At 2,474 miles from London, Baku is roughly the same distance as flying from Los Angeles to New York; it's a very long way with around a five-and-a-half-hour flight required. There are currently three scheduled flights a week between London and Baku and a total of 630 seats, which is hardly enough to meet the expected demand, and few alternate airports to consider.
Travelling via another airport may perhaps be worth considering for those determined to reach Baku. The shortest connecting option is via Frankfurt with Lufthansa as the table below highlights but other perhaps more exciting options exist via a once daily connection over Kiev or perhaps a Moscow stopover.
Table 1 – Scheduled Connecting Flights London to Baku, 28th May 2019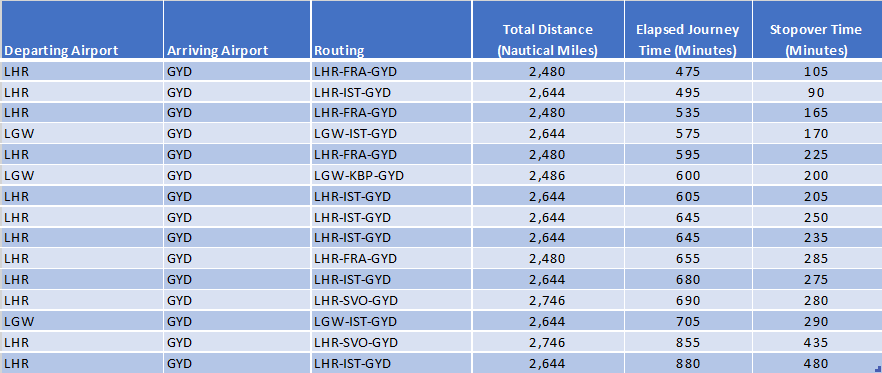 Source: OAG Schedules Analyser
Aside from the main Baku airport with the memorable name of Baku Heydar Aliyev International Airport, there is only one other domestic airport that some may consider, although travelling to Baku from either may present its own challenges. Ganja airport has some three flights scheduled for arrival on the Tuesday before the final and two of those flights are to Moscow but it is an alternative for the desperate!
More realistically a whole swarm of charter services are likely to be operated from a combination of Gatwick and Stansted Airports. Allowing for a 23:00 kick off local time then an arrival of 18:00 in Baku requires a departure from either airport at around 09:00, which may be a squeeze for both since Gatwick has 21 scheduled departures in the 09:00 hour and Stansted 17. Reassuringly though, on arrival at Baku the airport should be relatively quiet since there are no scheduled arrivals or departures in the 18:00 hour block.
Champions League Final – 1st June, Madrid
Fortunately, Madrid shouldn't present quite as many challenges as Baku! On the Friday before the final there are some 26 scheduled flights from London across six different airlines and all the major airports. However, both British Airways and Iberia will have been filling their flights with connecting traffic to South America via Madrid so many seats may already have been sold, and in total those 26 flights will only provide some 5,500 seats, leaving potentially 12,000 London based supporters looking for alternate options. From a combination of Liverpool and Manchester, there are currently two scheduled flights on the 31st May offering 375 seats so clearly a bigger potential challenge here for those travelling.
There are of course options from either London or the North-West via a European hub but scheduled airlines tend to very tightly manage the availability of seats for what they consider low yielding European connecting traffic so fares may be very high for such a journey. Which perhaps make travelling to another Spanish destination a very real alternate especially given the high-speed train network in Spain.
Alternate airports such as Barcelona, Seville, Valencia, Malaga all provide alternates to Madrid adding perhaps four to five hours each way to the journey if travelling onwards via train. Equally hotel accommodation may be a lot cheaper in such destinations for those planning to stay over the weekend. However, from our own research we know that many of the flights to these destinations are already close to full so perhaps a self-connecting Amsterdam – Barcelona flight using easyJet to Amsterdam may be an option for many!
Map 1 – Scheduled Flights from London & North West England to Spain, 31st May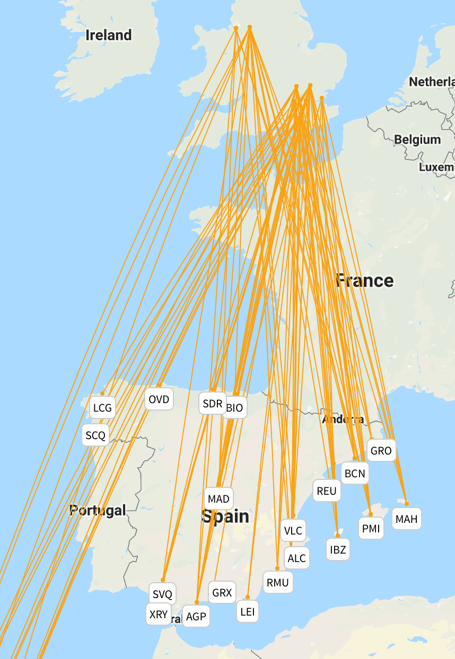 Source: OAG Schedules Analyser
Another option that may be worth considering is purchasing a traditional holiday package to mainland Spain, the Balearics or indeed the Canary Isles and "just" making a side trip to Madrid as part of the holiday!
We know that supporters will find the most inventive ways to be in either Baku or Madrid and our insights may provide some food for thought. However, the real winner in both competitions may be the European charter airlines and plane spotters, since no doubt some very rare and obscure airlines will be operating a lot of charter services at the end of May to Baku and Madrid for the lucky ones with tickets.