Deirdre Fulton & Becca Rowland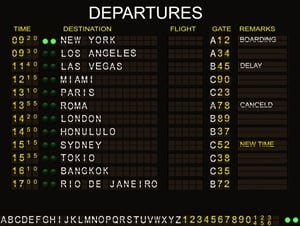 Many of the interesting on-time performance stories in June 2014 come from Europe. At Spain's San Sebastian OTP improved by 36 percentage points compared to a year earlier, while at Menorca OTP improved by 16 percentage points and by 10 percentage points at Valencia. Smaller rises were seen at other Spanish airports but were accompanied by strong increases in the number of flights handled. For example, Tenerife Sur Airport saw OTP improve by eight percentage points while flights grew by 20%. Other Spanish islands such as Ibiza, Lanzarote and Palma de Mallorca also managed to improve on-time performance while handling a large number of flights.
By contrast, in Turkey, the two Istanbul airports grew very strongly with Sabiha Gokcen adding 34% more flights compared to June 2013 and Istanbul Airport adding 11%. However in these cases their on-time performance suffered.
The third European market worth mentioning is Norway where many of the country's major airports, operated by Avinor, experienced the magic combination of more flights and year-on-year on-time performance improvements.
Our monthly on-time performance review uses OAG's Flight Status data.
Find out more and request a free trial here or contactus@oag.com