Too much capacity too quickly. A common complaint from airlines when demand softens, yields fall and the price of oil creeps up. This year has already been impacted by the loss of carriers such as Wow Air, Bmi Regional, Primera, Small Planet, Cobalt and of course more recently Jet Airways, although as we head towards the peak summer months, at least for most airlines fear of failure will have been averted until at least the winter season.
As most airlines finalise their Summer 2019 schedules, we look at where and how capacity has been added in Europe. Of course, factors such as the B737-Max and Brexit are certainly influencing both business and consumer confidence but the underlying trends in terms of both frequency and capacity suggest that perhaps Summer 2019 may not be too bad for either the airlines or their investors.
Across Europe scheduled capacity for this summer is down compared to last year, only marginally at around 1,400 fewer seats a day with 118,000 fewer scheduled flights departing, suggestive perhaps of fewer regional aircraft operating than in previous years. At a summary level, frequency has fallen by 2.1% whilst capacity is less than a percentage point lower than Summer 2018.
Italy Battles with Low-Cost Airlines
Europe's top ten largest markets account for nearly three-quarters of all scheduled capacity, seven markets are reporting reductions in frequency with two of the larger markets; Germany (-4.2%) and France (-3.3%) quite significant although in the case of Air France, perhaps no Joon flying may be a factor! The fastest growth market in the top ten from a frequency perspective is Italy where a major low-cost airline battle continues between Ryanair, Easyjet and Vueling but even here capacity is slightly below previous year levels.
Chart 1 – Top Ten European Markets Summer 2019 vs. Summer 2018

Source: OAG Schedules Analyser
Moscow Sheremetyevo Bucks the Trend
Europe's top ten airports, in general, reflect the trends highlighted at country level as Table 2 below highlights. Notable variations are at Moscow Sheremetyevo where capacity has increased by 14.6% year on year where Pegas Fly have nearly quadrupled capacity year on year and Nord Wind added some 800,000 additional seats through the summer season. Also, of note is the move of London Heathrow down to fourth in terms of scheduled flights this summer whilst still retaining its number one scheduled capacity position and Rome Fiumicino entering the top ten at the expense of London Gatwick.
Table 2 – Top Ten Airports Summer 2019 vs. Summer 2018

Source: OAG Schedules Analyser
Europe's top ten airlines listed below account for just over 46% of all scheduled capacity for the Summer 2019 Season, whilst the top ten airports account for slightly over one quarter (25.7%) of all capacity. 302 airlines have filed schedules with OAG for flights from Europe this summer compared to 349 last summer, highlighting perhaps the difficult trading conditions that some of the smaller carriers have faced in the last twelve months.
Table 3 – Top Ten Airlines Summer 2019 vs. Summer 2018

Source: OAG Schedules Analyser
Ryanair's continued growth with the addition of an extra 12,000 seats a day places the airline further ahead of its closest competitor Easyjet where a more modest expansion of just 7,800 extra seats a day places these two carriers well ahead of their closest legacy airline competitor in Lufthansa. Collectively, Ryanair and Easyjet account for 17.7% of all capacity offered this summer and given their generally higher load factors it is likely that one in five travellers in Europe will travel on one of these two airlines.
The steady growth of capacity from some airlines is highlighted in the chart below where the steady growth from the major European low-cost airlines with their numerous base airports will ultimately challenge some of the smaller regional carriers. With Europe still containing many airlines operating between less than two million seats this summer and yet not being truly niche in their operations, the larger carriers would seem likely to increasingly spread into their markets.
Chart 1 – Top 10 European Scheduled Airlines Capacity, Summer 2015 - 2019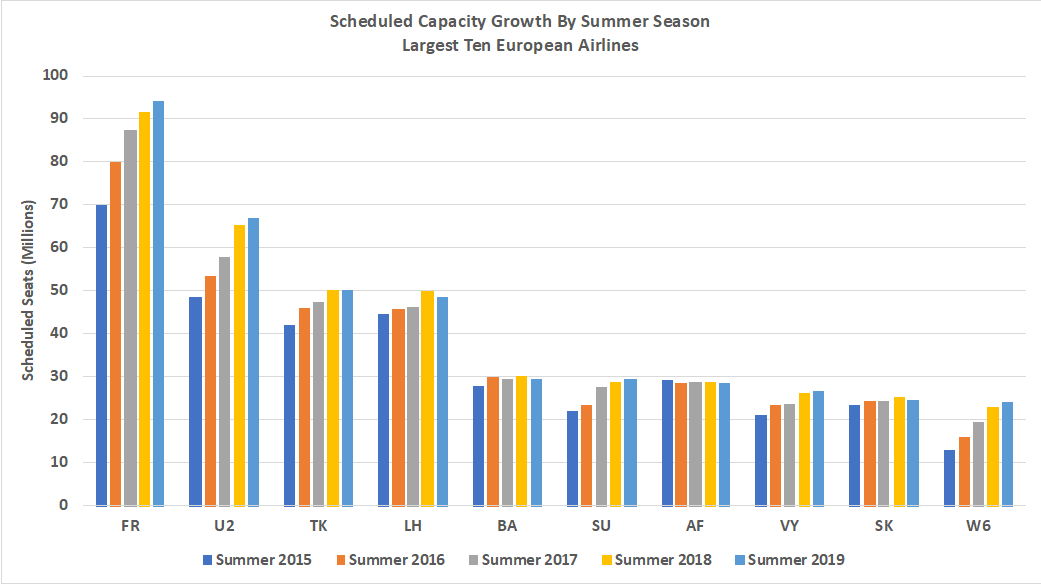 Source: OAG Schedules Analyser
For many airlines, whilst the reductions in market capacity will be broadly welcome the levels of booking activity will continue to be the prime area of attention as the economic slowdown continues and confidence around outstanding political issues remain. Certainly the planned reductions in capacity will help many but even so, there is still a chance that some airlines may feel a little burnt by the end of the summer unless bookings pick up at similar yield levels to previous years.