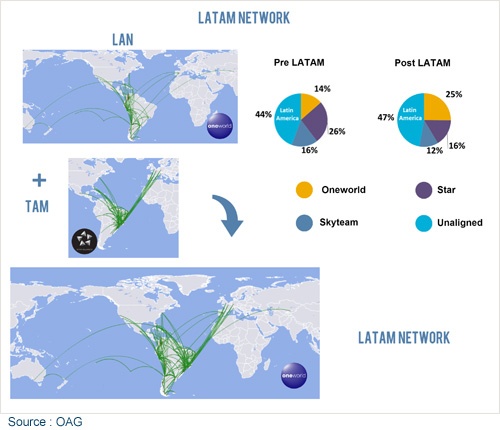 Love on the Rocks continued …..
The decision in February 2013 that the LATAM Airlines Group would join Oneworld (following the merger of LAN-TAM in June 2012) has been pivotal in establishing Oneworld as the leading alliance in South America. The Chilean flag carrier LAN was a founder member of the Oneworld alliance, while Brazil's TAM was with Star Alliance. The two airlines now form the world's largest carrier in terms of market capitalisation. Prior to the merger they had very little network overlap and so virtually the whole TAM network comes as an addition to Oneworld, and significantly strengthens Oneworld capacity between South America and Europe.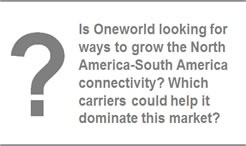 LATAM's South American rival, Avianca-TACA, is part of the Star Alliance. Star will now see its market share of Latin American capacity drop from 26% to 16%, while Oneworld grows its capacity from 14% to 25%, a clear coup for Oneworld. Had LATAM decided to go with Star rather than Oneworld, the Star Alliance would have controlled 35% of capacity while Oneworld would have managed just 6%. Star continues to dominate capacity at some of Latin America's largest hubs – with 44% of capacity at Sao Paulo (GRU), 72% at Bogota, and 46% at Sao Paulo (CRH) - Star benefits from Copa Airlines' strength in the region.
Meanwhile, the goal of strengthening SkyTeam's presence in Latin America was partially met last August when Aerolineas Argentinas became a member of the alliance. Despite this, much of South America remains outside of SkyTeam's reach.
Shake up in the Americas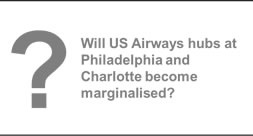 The merger of US Airways and American Airlines during this year will create the world's largest airline by passenger traffic. The inevitable consolidation that will take place when these two giants merge will undoubtedly lead to consolidation among some key US hub airports. By way of example, when US Airways and America West were merged back in 2005, the America West hub at Las Vegas was wound down and marginalised. Should we expect a similar outcome now, this time with the US Airways hubs at Philadelphia and Charlotte being diminished in the new network?
Despite the size of the JetBlue and Southwest Airlines operations, it is the airlines which are members of global alliances that continue to dominate the US hub airports. In April 2013, Delta (SkyTeam) operated 79% of scheduled capacity at Atlanta Hartsfield International Airport, United (Star) operated 82% of scheduled capacity at Houston, and American (Oneworld) operated 68% of scheduled capacity at Miami.
Despite the dominance of US Airways at Charlotte, the airport is overshadowed by the massive Atlanta Airport hub, while Philadelphia is squeezed on either side by the larger Washington and New York metropolitan areas.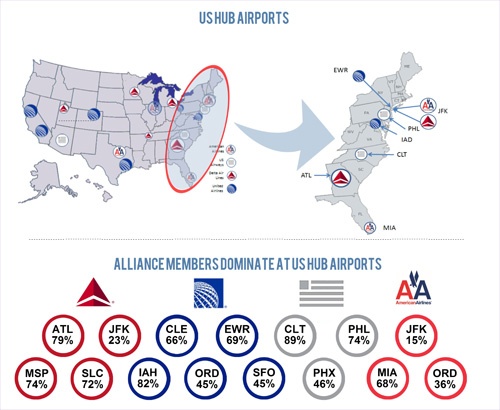 Source: OAG Analyser