It's frequently hard to comprehend the rate of capacity growth in China in recent years and Thailand proves that point. The largest international market from China with nearly 13 million scheduled seats available this year, Thailand is also the fastest growing market over the last five years with a near threefold increase in seats during that period.
Interestingly, for once this is not a story about Beijing, Shanghai or Guangzhou; although they are large markets, but more a story around growth from the second-tier cities in China that we all hear about but equally understand very little.
This year there will be seven such second tier cities in China with more than half a million seats to Thailand. Nanjing, with a metropolitan population of some 11.7 million has 530,000 scheduled seats to Thailand; the equivalent of one seat for every 22 people in the city; quite impressive for a market that only had 60,000 scheduled seats in 2014.
Chart 1 – Scheduled Capacity Growth from China to Thailand, Selected Secondary Markets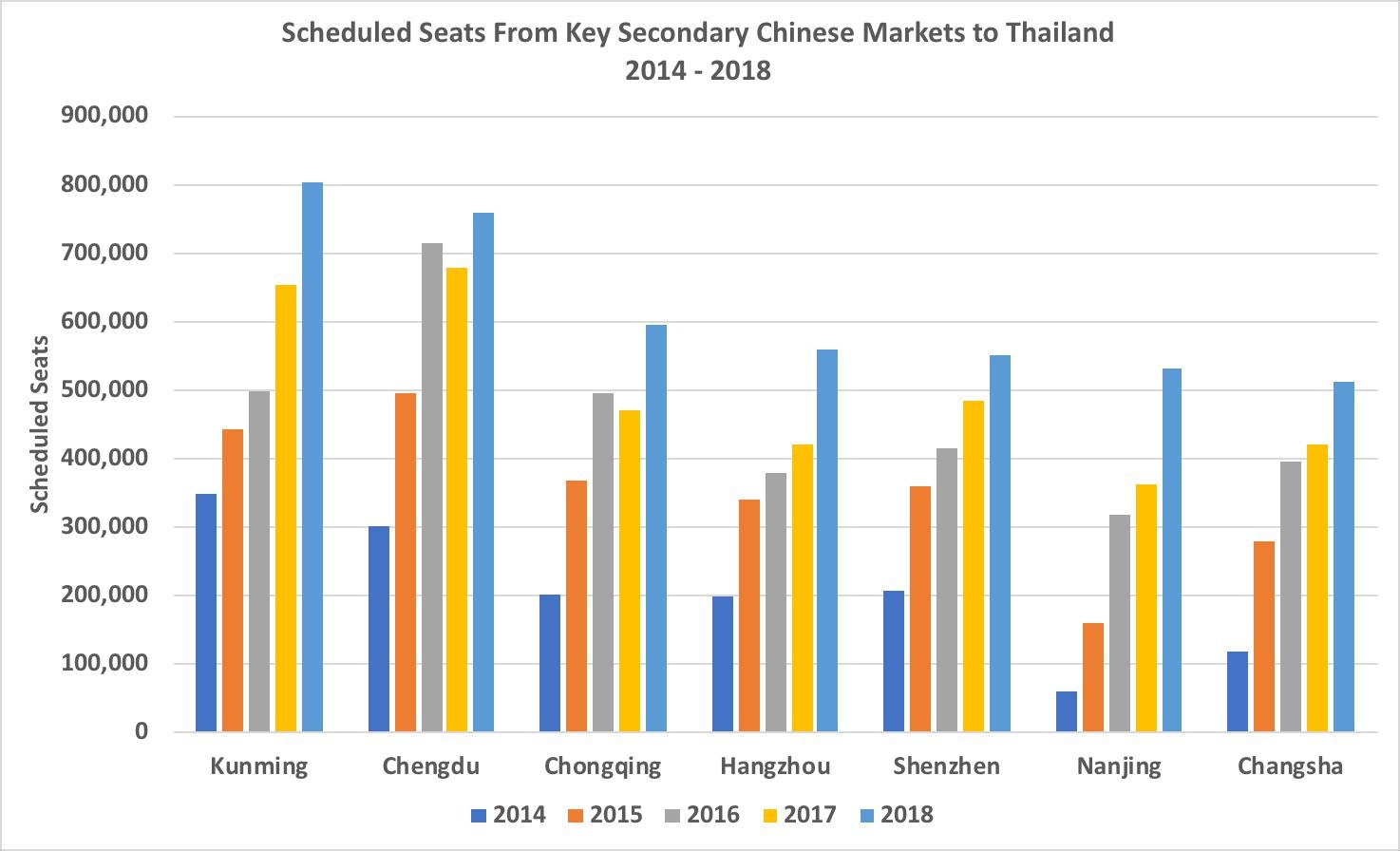 Source: OAG Schedules Analyser
In total there are some 169 city pairs served between the two countries, in 2014 only 87 city pairs were operated. And to place that in context, there are only 82 city pairs operated from the whole of Western Europe to South-East Asia which highlights both how quickly the market has developed and its potential for further development.
Incredibly, with so many city pairs now operated there are only nine city destinations served in Thailand although that does cover all of the major airports. Bangkok with just over 8 million scheduled seats per annum is the largest point of interest although Phuket has recorded the highest levels of growth with a four-fold increase in capacity in five years.
Perhaps the most graphic illustration of the market growth is a "before and after" review of the market taken from the new OAG Mapper tool comparing the 2015 city pairs to those operated this year.
| | |
| --- | --- |
| 2015 China – Thailand Services | 2018 China – Thailand Services |
| Source: OAG Mapper | |
But the most surprising development has been the actual growth in passenger bookings originating from Thailand. Since 2013 the number of bookings with a Thai area of sale have increased by some 358% and now account for some 29% of all bookings made compared to only 20% four years ago.
Quite how far the market will grow remains to be seen but such rapid expansion perhaps provides us all with an insight as to just how quickly international travel from China is growing.