The escalation of events in the Ukraine are a tragic development at all levels for people around the world and the responses have been quick from Governments. Inevitably aviation takes another hit and one country's actions are normally followed by a swift response from the other, as we have seen today.

Yesterday the United Kingdom banned Aeroflot from operating but did not stop Aeroflot's ability to overfly UK skies. This morning, Russia not only banned UK domiciled carriers from operating, but banned them from overflight access. Banning overflights is an escalation not normally seen when events like this occur. So, what is the damage and likely impact of these cuts?
Aeroflot Stops
Looking at March data, Aeroflot were supposed to operate some 5,500 flights to markets in Europe, with the top ten markets listed below accounting for three quarters of those services, with Turkey the main country destination. How many of those will operate, or be banned from operating, remains unanswered. The United Kingdom, with 50 scheduled flights, ranked 23rd in the list, so hardly a huge loss from that perspective to Aeroflot.
Table 1 - Aeroflot Planned International Schedules March 2022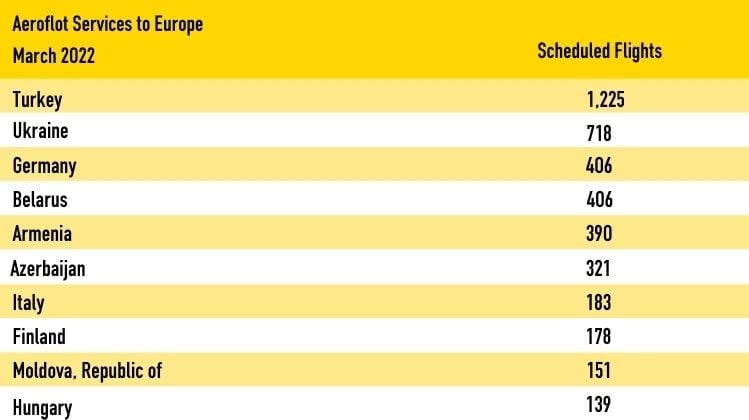 For Aeroflot the closure of access to European markets would be a serious blow but one that they may have to prepare for. The loss of access to hard currencies from countries such as Germany, Italy and Finland would hurt the airline badly. Taking March 2019 as a reference point pre-Covid, the top ten overseas revenue countries for Aeroflot are listed in the table below.
Table 2 - Aeroflot International Point of Sale Revenue US$, March 2019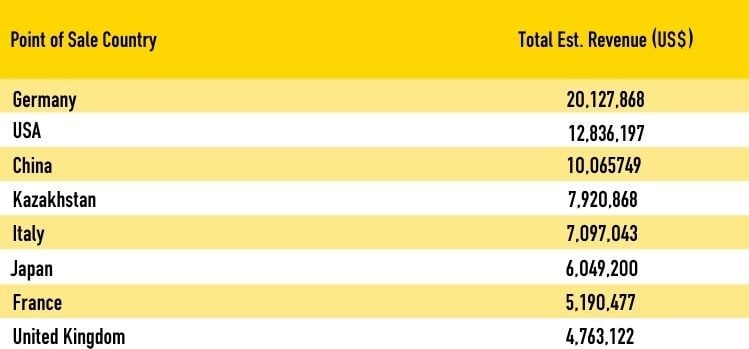 Source: OAG Schedules Analyzer
Total international revenues for Aeroflot in March 2019 were in the region of US$385 million, of which US$ 247 million (64%) was generated within the Russian area of sale. However, the threat of losing US$20 million or revenue from Germany, US$12.8 million from the United States and in total over US$82 million from just ten overseas markets in one month would normally be a concerning event to a state-owned carrier such as Aeroflot, although of course these are not normal times.
And Other Airlines Fly Further
The closure of Russian airspace to airlines from some countries would be a cause for concern but as in any scenario other options always exist, even if these would result in longer journey times in some cases. Taking just one example to South East Asia, OAG's flight status data is currently showing Singapore Airlines SQ317 LHR – SIN service tracking across Germany on a southerly routing, opting not to route through Russian airspace. The flight is expected to take around ten minutes longer than normal; a nuisance but not a big issue in the scheme of things. Many other aircraft from Northern Europe could choose to follow similar tracks in the next few days, with only minor increases in sector length.
For airlines operating to and from North East Asia where Russian airspace has been heavily used, finding alternate routings would be slightly harder, but not impossible given the range of new aircraft types. Some could head further north with a polar routing, whilst some could head south, but either way once again the potential inconvenience could be offset by reduced en-route charges. Overflying Russian airspace is extremely expensive and Aeroflot receive a royalty from the revenue generated, so will lose more income if more countries access to the airspace is restricted.
Ultimately, banning aircraft from either landing or operating over another country's air space is a grand gesture based more on politics than anything else. Those airlines impacted will find solutions, they always do, and in time may find some of those solutions are actually worth continuing with. That could be a massive own goal for those closing down their air space.