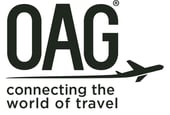 Luton, 30 November 2016: London Heathrow has today been announced as Europe's most connected airport for the second successive year, following the release of this year's OAG Megahub Index. Heathrow's closest challenger for the European Megahub title came from Frankfurt, Germany.
Having recently been identified by the Government for the potential construction of a third runway, the airport also showed its stature outside of just Europe, ranking in the first half of OAG's top 50 Megahub airports globally.

While Heathrow retained its title, it was the only UK airport to make it in to both the European top ten and the overall top 50 listing. Europe was the third biggest contender, holding 12 per cent of the global share of Megahub airports, followed by Latin America at 8 per cent, and Middle East / Africa at just 2 per cent. North America had the largest per cent of Megahubs in its midst, dominating nearly half (46 per cent) of the share by region. Asia Pacific also ranked ahead of Europe, with 32 per cent.

John Grant, senior analyst at OAG, said: "For many years Heathrow has been the number one hub in Europe and that position remains solid despite the increasing competitive range of airports in Europe. In the next decade with existing capacity constrained it is inevitable that until the third runway is operational that other airports will close the gap on Heathrow."
About OAG – Connecting the World of Travel
OAG is an air travel intelligence company that provides accurate, timely and actionable digital information and applications to the world's airlines, airports, government agencies and travel-related service companies who have to comprehend, with clarity and precision, how the world moves in order to advance their businesses with confidence. OAG has the world's largest network of air travel data and an unrivalled ability to aggregate complex data sets from multiple sources and stages of the travel continuum. It delivers real-time insights, compelling visualizations, powerful applications and analytics for customers worldwide.
OAG has a definitive schedules database of more than 900 airlines, including 115 low-cost carriers and more than 4,000 airports. With the most extensive real-time flight status database in the market, the OAG flightview database delivers 25 million flight status updates daily, and processes more than 1.4 million requests.
For further press information:
Lucy Figiel / Hannah Lock
Berkeley
T: +44 (0)1189 090909