Announcement from Routes America 2015, OAG stand number: S1, Colorado, USA, 2 February 2015: OAG, the market leader in aviation intelligence and flight status data, has today signed South America's largest airport as the latest customer for its market-leading Analyser suite of airline network analysis tools.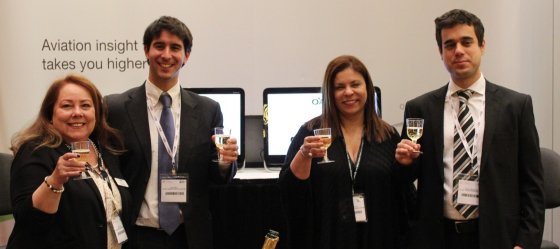 Guarulhos International Airport (GRU), formerly known as São Paulo/Guarulhos–Governador André Franco Montoro International Airport, has signed the two-year deal with OAG at Routes Americas. The new licence agreement includes access to OAG's Schedules Analyser, Connections Analyser, Traffic Analyser and OAG Mapper products, which will be used to strengthen the airport's marketing and route development programmes.
OAG's Analyser suite provides detailed and comprehensive insight into traffic flows, schedules, connections, route planning and network analysis for all parts of the aviation industry, providing the tools analysts need to identify trends, spot commercial opportunities and monitor competitor activity.
In 2014, Guarulhos Airport saw passenger traffic reach 39.5 million, a 10% increase compared to 2013. As a result, the airport established itself as the leading airport in South America and one of the fastest growing airports in the world. With ongoing investment and expansion, the airport will increase its capacity from 42 million passengers per year to an estimated 60 million by 2022.
Antonio Marques, GRU Airport CEO, says: "OAG's Analyser suite will provide us with valuable insight into the industry and its trends, along with extensive data analysis. We believe market analysis and route development are key elements to an airport's success and, using the Analyser suite, we can optimise our flight schedules, estimate the Quality Service Index for new and existing routes, and benchmark ourselves against other airports in the region."
John Grant, executive vice president, OAG says: "Having access to real-time, easily interpreted analytics is essential to compete in the aviation industry. By investing in OAG's Analyser suite, Guarulhos Airport has shown its dedication to improving its understanding of the market's dynamics and will deepen its knowledge of one of the fastest growing markets in global aviation."
-ENDS-
For further press information:
Trudi Beggs / Sam Murray
80:20 Communications
T: +44 (0)20 7664 6310
E: tbeggs@8020comms.com / smurray@8020comms.com
Notes to editors:
About OAG
OAG is an air travel intelligence company that provides accurate, timely and actionable information and applications to the world's airlines, airports, government agencies and travel-related service operators. OAG has the world's largest network of air travel data including its definitive schedules database of more than 900 airlines and over 4,000 airports. OAG's FlightView brand has the most extensive flight status database in the market which delivers 25 million flight status updates delivered daily and processes 1.4m requests. For more information, visit: www.oag.com and follow us on Twitter @OAG Aviation.