When it comes to the technology travelers believe will improve and streamline their experience the most, the number one answer wasn't biometrics, robots or any other emerging technologies. It was something much simpler: in-airport turn-by-turn GPS directions for navigating terminals and gates (54%).
Overall, the travelers surveyed by OAG were more skeptical about emerging technologies than expected: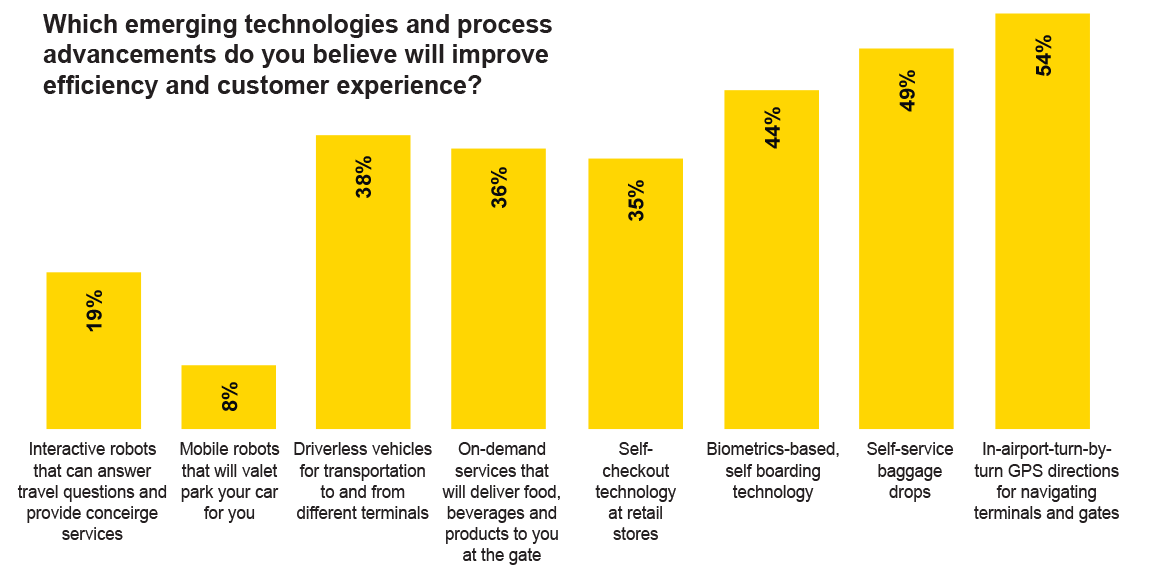 Self-service amenities were in high demand for younger generations. Compared to the total survey population, millennials were:
43% more interested in the availability of automated, self-checkout options for gate-side retail.
5% more interested in on-demand, gate-side delivery of food and beverage.
60% more interested in mobile robots that could autonomously park their cars.
54% of millennials, 37% of business travelers and 35% of all travelers showed interest in self-checkout options at the airport. While this has become commonplace in grocery and retail stores, in-airport adoption has been slow. But momentum is building: Amazon Go recently announced plans to expand into U.S. airports including Los Angeles International and San Jose.
Overall, consumer readiness for robotics was surprisingly low. Only 19% of travelers said they see value in interactive robots that can answer travel related questions and provide concierge services. Less than 10% said they would value mobile robots that could autonomously park their cars – an approach currently being tested by London's Gatwick Airport and Lyon-Saint-Exupéry Airport in France.
With a healthy skepticism for emerging technology, where should airports, airline and tech providers invest? The answer is intelligence.
Resurfacing the initial finding – that travelers crave simplicity, speed and efficiency – the travel market would be well-served to go back to the basics by investing more in real-time information-sharing and transparency.
Information and intelligence remain critical for improving the travel experience. Of the travelers surveyed by OAG:
78% value flight delays and cancellations predictions.
75% want real time updates on expected boarding times.
77% want information on estimated security wait times.
55% want updates on walking times between gates and terminals.
Another way of putting it: travelers value accessible and trustworthy information substantially more than emerging technologies like robotics and biometrics.
Airlines and airports will continue to test and deploy emerging technologies – and rightfully so. Many of these innovations have the potential to completely transform the travel experience by making the day-of-travel faster, less chaotic, more enjoyable and secure. In the process, it's imperative to not overlook the basics of delighting travelers: an informed traveler is a happy and relaxed traveler, and relaxed travelers spend more.