Anyone who read the bestselling book The Silk Roads by Peter Frankopan a few years ago will have been struck by the extent to which people have moved vast distances across land to explore new places, trade and settle over the course of two millennia. The same is true today. People love to travel, and air travel has become a core part of the process. Since mass air travel became a possibility, little stopped our appetite for it. When OAG analysts tracked the impact of major global events such as 9/11, SARS outbreak, the eruption of volcanoes, global recession, etc., which temporarily reduced growth in air travel, the effect has been just
that - temporary. Within months, or at most 2 years, growth returned to a level similar to before the event.
Since 2000, the number of aircraft seats capacity) has grown at an average annual rate of 3.6% while Available Seat Kilometres (ASKs) have grown by 4.6%. The faster growth of ASKs than seats indicates that the average flight is longer than it used to be.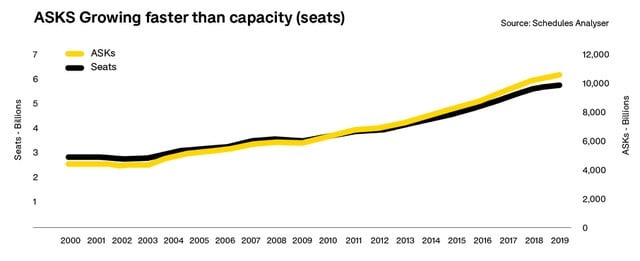 In the dying months of 2019, teenage activist Greta Thunberg captured the attention of millions with her long-distance travel across the Atlantic, hitching a ride on a yacht and choosing to travel by train when making a six-country tour across Europe. Her lack of compromise is hugely challenging for the many people genuinely concerned about the impact of their flying habits; and the impact it is having; those who have until now been able to compartmentalise air travel on the one hand, and concern for the environment on the other. Many in the aviation industry probably fall into that category too.
The question going forward will be whether consumer habits will change, and whether any change will be permanent. Will flygskam, or flying shame, lead to a significant and sustained reduction in air travel, or is it just a localised and temporary phenomenon occurring in Northern Europe which has captured the attention of the media?. There is no doubt that there has been a discernible impact on air travel, with the first warnings coming out of Sweden.
Swedavia, the Swedish airport operator, published year-end statistics for 2019 that showed a 4% decrease in passengers at their Top 10 airports, while domestic passengers fell by 9% in the year[2]. It would be easy to rush to the conclusion that this is attributable to concern for the environment, given the media coverage, but the reasons may be more complex.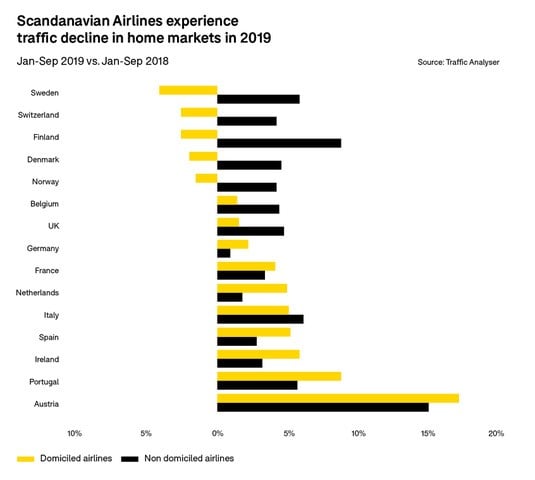 OAG data for traffic from European markets, split out by airlines based, or domiciled, in each country and the all others, shows that in the first nine months of 2019 across Scandinavia and Switzerland passengers seemed to be flying less, at least on their national airlines. Swedish airlines saw the biggest impact with numbers down by 4.1% but foreign airlines flying to Sweden saw passenger volumes rise by 5.9% year-over-year. Across most of Europe, passenger numbers increased.
It is too simplistic, though, to attribute what we are seeing in Scandinavia to concern for the environmental impact of flying. Between July and October 2019, according to OAG data, traffic from Sweden was down by 22% at Norwegian and traffic at sister airline Norwegian Air Shuttle was down by 7%. While Braathens also saw a drop-in traffic of 11%, at SAS the number of passengers was the same as the previous year and Ryanair grew traffic by 9%.
Even in Sweden the drop in traffic is not being experienced across all airlines. In fact, much of the traffic reduction can be attributed to Norwegian which has been very public about its efforts to reduce capacity and cut loss-making operations to support profitability. The primary reason for its drop-in traffic is that it was flying less.
So, is there a flying shame effect? According to OAG Traffic Analyser, there has certainly been a reduction in flying within Western Europe. While headline traffic numbers broadly tracked passenger volumes month-by-month in 2018, as 2019 past overall growth reduced and August saw a fall of 1% in traffic, October's was down by 1% and November's was down by 1.5%.
However, what people say they want and what they actually do can often be two very different things. Austrian Airlines have been offering carbon offsetting for some time but fewer than 1% of passengers pay to offset their carbon emissions[3]. Similarly, KLM offers a CO2ZERO scheme for carbon offsetting but in 2018 only 88,000 passengers travelled carbon neutral. That's fewer than 0.5% of all passengers carried by KLM.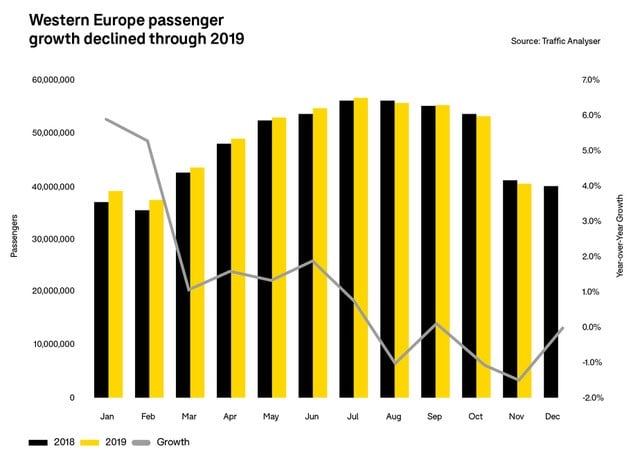 [3] https://simpleflying.com/austrian-airlines-carbon-neutral-growth/