Regulatory approval for the recently announced Deutsche Lufthansa stake in Italian airline ITA Airways will be a welcome step on the path to greater consolidation among European airlines.
This month OAG schedules list 197 European-domiciled airlines. This is a large number, and many would say it is far too many. But what else changes with ITA Airways becoming part of the Deutsche Lufthansa family?
Lufthansa Has Form on Acquisitions
This is not the first time Lufthansa has acquired smaller and failing European airlines. Twenty years ago the airline took ownership of Air Dolomiti (another Italian airline) and it did the same for Swiss International Airlines and Edelweiss Air in 2007, Austrian Airlines in 2009, and then Brussels Airlines in 2016. The Deutsche Lufthansa Group, including these airlines along with Eurowings, now provides 12% of all scheduled capacity in Europe. While ITA only operates 1.3% of European capacity this month, this is on par with both Austrian and Swiss, and so this deal has similarities to the previous acquisitions and is consistent with Deutsche Lufthansa behaviour.
The acquisition, announced in May 2023, has Deutsche Lufthansa take a 41% stake in ITA, in return for a 325 million euro (US$ 358 million) investment in the airline, while the Italian government also makes a contribution of 250m euros to the airline. ITA is the derivative of Alitalia which went bankrupt in 2017 and ceased trading in October 2021. The deal seems to include an option for a full takeover at a future point in time, but without obligation and depending on the success of the business turnaround achieved over the next couple of years. ITA and its predecessor, Alitalia, has not made a profit for 20 years, and previous attempts by foreign investors, notably Air France/KLM and Etihad, were not successful.
While the aviation world will watch to see if the legacy carrier and the ITA management have what it takes to finally create a successful Italian carrier, ITA does bring a handy fleet to the table. The ITA fleet consists of 64 aircraft, all Airbus, of which there are 46 A319s and A320s - the primary aircraft type in the Lufthansa fleet.
ITA has also ordered a large number of aircraft. There are 67 aircraft on the order book including:
21 x A320neos
19 x A220-100/300s
16 x A330-900
9 x A321neo (LR)
2 x A350-900
At a time when new aircraft deliveries are caught up in global supply bottlenecks, if nothing else, the acquisition of ITA is a fast-track to acquiring new aircraft and network expansion.
Carving Out Network Advantage
At first glance the networks of Deutsche Lufthansa and ITA Airways don't seem to have too much in common, aside from a few routes between Rome and the Lufthansa hubs, but the acquisition clearly gives the German airline a foothold in Italy and the potential to connect more Italian traffic via its hub airports.
Competition is strong. Ryanair currently dominate the Italian market with a 31% share of all scheduled seats. ITA is the third largest airline, after easyJet, and operates just under 10% of capacity. It's clear that both the low-cost carriers focus on intra-European and intra-Italian traffic flows, and while the ITA network includes some of that, it also includes routes further afield. Indeed, the CEO of ITA has said their plan is to focus on long-haul premium traffic and the fleet upgrade is set to increase both the ASKs (Available Seat Kilometres) flown and the airlines' long-haul capacity.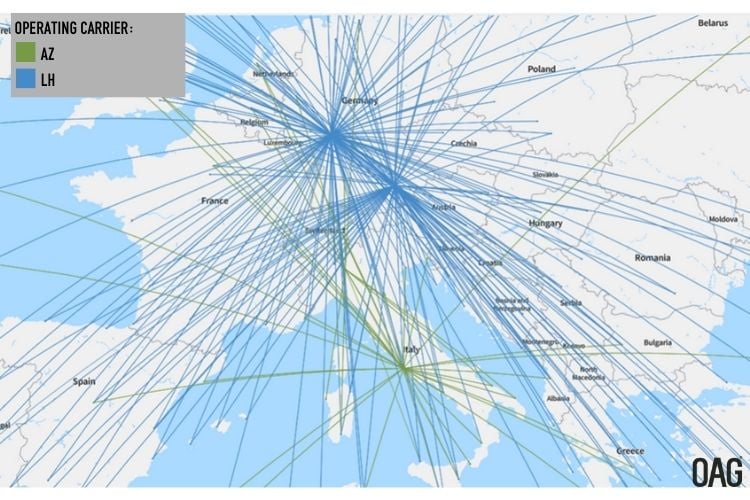 Source: OAG Mapper
---
---
US Opportunity
One market where this deal may prove an opportunity for Lufthansa is for the Italy-USA traffic flows. In 2022, there were almost 6 million passengers flying between the two countries, the second largest flow of traffic between Europe and the US. However, 70% of passengers were flying indirectly. That is, they could not fly non-stop between their local airport and their destination airport -they had to connect somewhere en-route, either in Europe or Stateside.
In 2022, ITA had an 11% share of this market, with 624,000 passengers. SkyTeam, of which ITA is a part, had a total traffic share of 39%. Yet, despite an average of 70% of passengers between Italy and the US connecting somewhere, for ITA this proportion was only 46%, and that was despite membership of the alliance. True, ITA has slightly fewer non-stop services, 6 in June 2023, compared to 7 or 8 for each of American Airlines, Delta Air Lines and United Airlines, but it doesn't appear to have been leveraging the value of being part of a major alliance.
As part of Deutsche Lufthansa there will be many more opportunities for ITA to compete on one-stop travel between Italy and the USA. ITA is expected to switch alliance from Skyteam to Star Alliance and presumably there will be more focus on leveraging the connecting potential for traffic between Italy and the US, competing for the one-stop traffic via Germany, as well as enabling onwards connections on United Airlines in the US.
Group Contributor, Standalone Entity
Unsurprisingly, the acquisition is also to deliver operating synergies by integrating ITA into the route network, revenue management and sales and marketing. However, current indications are that the airline will operate as a stand-alone entity. This is not a dissimilar approach to that taken by the other acquisitions where a national identity has remained.
Of course, the need to retain an Italian identity is perhaps baked into the deal given that the Italian government remains the majority shareholder. But this also adds risk. While Alitalia and ITA have proved a headache for the government in the past, will they give Lufthansa the required room to maneuver to turn the airline around?
For now, a minority stake clearly gives Deutsche Lufthansa an opportunity to grow market share in the fiercely contested market that is Europe. The acquisition, if approved, ticks a number of boxes but the hard work has only just begun.
---
Recommended: