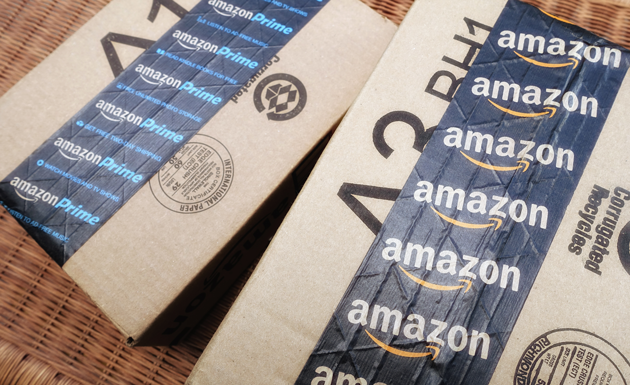 With Amazon recently announcing the "shortlist" of cities for its second headquarters, the competition to win the tech giant is heating up. Along with that comes a wave of predictions, commentary and analysis on which locations have the best odds.

One of Amazon's prime requirements and criteria for HQ2 is air service, so we've analysed all the potential cities using OAG data.
Amazon's air service requirements include the number of destinations served, non-stop service to Seattle and, the range of international connectivity. When looking at the underlying data, the shortlist rapidly focuses back to the established powerhouses of North American aviation.
Here's a look at the air-service strengths and weaknesses of some HQ2 favorites.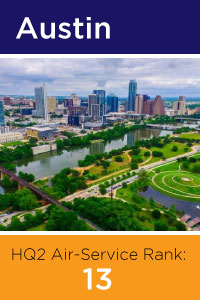 While Austin is a trendy underdog pick for Amazon's HQ2, the city finished in the bottom-third for air-service strength. When you look at the aviation picture in Austin, many industry experts were surprised when British Airways launched new service to Heathrow. But today, that service is operated on a daily basis, which demonstrates the growing market opportunity in Austin. While we can expect increased availability of long-haul services to Europe from Austin over the next few years, today, the city is one of the worst shortlist performers (tied for 12th) for international flights. Austin's best performance is in the number of daily, non-stop flights to Seattle, where it finished just 9th overall.


As the closest major airport to Europe, with extended range single-aisle jets capable of reaching many new markets across the pond, Boston is ideally located to capitalize on its connectivity opportunity. And with new services to Asia in development, the airport and city expect strong growth to the global network. Today, however, Boston ranks just 9
th
in international flights, 11
th
in market pairs and 7
th
in non-stop flights to Seattle.

Perhaps surprisingly, Toronto places second in terms of international connectivity, although that's based entirely on the large range of connecting markets in the United States. Not surprisingly, at the other end of the spectrum, Toronto has one of the lowest counts of domestic connectivity amongst all twenty airports. With around 620 flights a day from YYZ, the airport has a higher frequency of service than either JFK or EWR, but is considerably behind airports such as Atlanta and Chicago. Toronto ranks 13th
, tied with Miami, in the number of non-stop daily flights to Seattle, and 9
th
in market pairs.


Home to both American Airlines and Southwest, and with two major airport facilities, Dallas Ft Worth is tied in second with Chicago in terms of city pairs connected and serves 46 international markets, although with slightly lower levels of frequency compared to Atlanta and Chicago. While Dallas did not place first in any overall category we measured, Dallas ranks in the top four on many counts.


Atlanta ranks first for total city pairs and finishes second to Chicago in the frequency of daily service. The city, however, only ranks 6
th
on the number of daily international flights. With a major Skyteam hub, Atlanta also offers strong synergies with Seattle, another major hub for Delta Air Lines. And if on-time performance matters to Amazon, access to Delta –
2017's most-punctual U.S. mega airline
– provides another checkmark for Atlanta.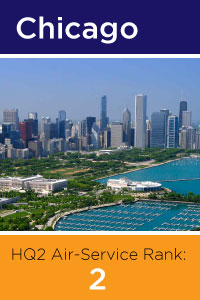 One of only a handful airports in the world that acts as a hub for two major airline alliances, Chicago O'Hare has made considerable progress with its on-time performance over the last few years. The combined two airport system of O'Hare and Midway collectively serves some 201 city pairs, although some are double counted by virtue of the two airport operations. With 43 international markets served from O'Hare, the city ranks eighth in this connectivity measurement. In 2017, O'Hare was the most-connected airport in the U.S. Overall, Chicago presents a terrific air service option for Amazon. The city ranks second in city pairs connected, third in non-stop flights to Seattle and fifth in number of international flights.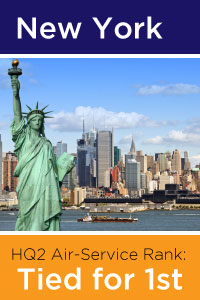 When measured as one combined airport system of JFK, EWR and LGA, New York City scores highly in any ranking; when measured on an individual basis, the respective strengths of both JFK and EWR are perhaps not quite so strong. JFK ranks fifth when total city pairs served are counted and ninth based purely on domestic city pairs operated. In terms of city pairs operated, JFK finishes in third place, although it can be argued that it has a broader range of international markets than either Toronto or Miami, both which rank ahead of the airport. Adding to its attraction, New York, JFK, (like Chicago O'Hare) is one of the few airports in the world that are home to two major alliances (OneWorld & Skyteam). New York is first in number of international flights and fourth in the number of daily, non-stop flights to Seattle.


A major Star Alliance hub, Newark finished eighth in the number of daily flights, seventh in the number of city pairs served, fifth in domestic connectivity and fourth for international connectivity. Like its counterparts in New York City, Newark benefits from the combined power of the JFK, EWR and LGA airport system.

When you evaluate Amazon's key aviation criteria – direct services to Seattle, number of non-stop city pairs available and international connectivity – our analysis shows that New York and Newark, with the combined power of JFK, EWR & LGA, are the winners. Chicago finished right behind in second place, followed by Los Angeles, which many predict is too close to Seattle to be a realistic option for HQ2. Atlanta and Dallas scored respectively as well, finishing 4th and 5th overall.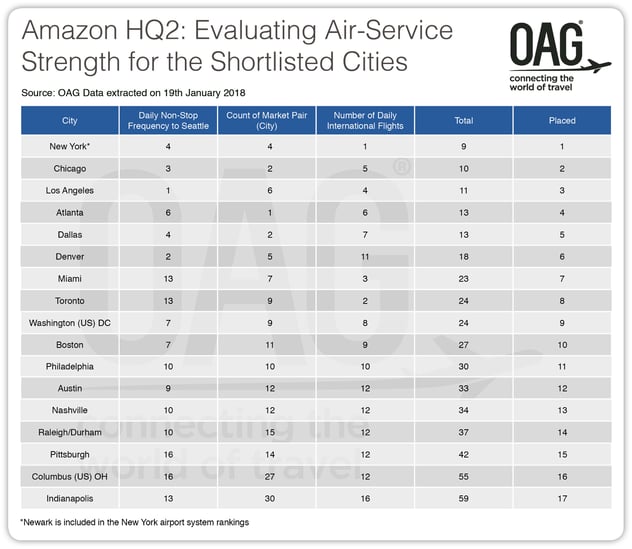 While air access, range of destinations served, and frequency of those services will be factored into the final decision, we suspect that other factors such as incentives, workforce availability, living costs, higher education and geography will hold more weight in the final decision.
At OAG, our U.S. headquarters are in Chicago and Boston – two great choices for Amazon. And while we aren't Amazon, when we selected Chicago, we had much of the same air-service criteria. We'll let you connect those dots as to our final prediction…